Fragrances are like clothes, you should know how to carry it, it should properly fit occasions and it should fit your personality. I haven't found the perfume for me yet. I will only say "yes" for everyday perfume if I have finally found my perfume soul-mate. I'm just waiting to be convinced, but I don't like the idea of spending thousands for that yet.
Those sample and full sized perfumes that was sent to me since I was young was either too strong or was not enough to make me fall in love with. Fragrances should be like an extension of ourselves too, like another body part. Imagine how other living creatures in this world use scents to communicate. So let's pick our perfume wisely!
So for today's post, I have the
Innocent
variant of
Adore Fragrances
. All for the sake of review, curiosity and addiction to Sample Room.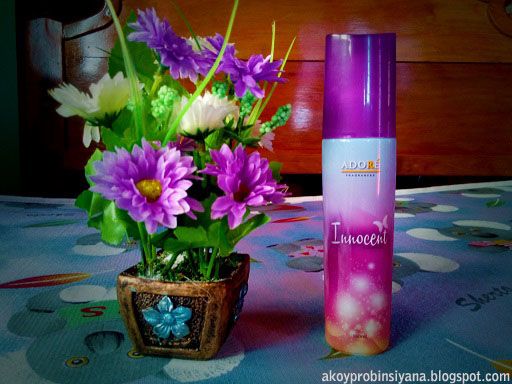 My sister sometimes complains if she happens to drop by in my room while I'm spraying this. I'm immune of this though. It's easier to tolerate this because it's just a cologne. It's less concentrated and less stronger than a perfume. It didn't gave me head aches even if reapplied multiple times. I am also thrilled that it has a different blend of scents and that it's not alcoholish.

I don't regret picking this so far since the formula works well with my body chemistry. It doesn't mess with my perspiration. It doesn't get mixed with other unpleasant odor to create a fouler odor. Since it's more of alcohol, it doesn't encourage the growth of bacteria compared to oil based fragrances.
Other says it smells like vanilla. I only noticed it though after reading other reviews and only when I concentrate in sniffing it. But a plain vanilla is a sweet scent minus the sharpness while
Adore Innocent
is dominated by a sharp sweet scent. It also has a fruity note and perhaps a bit of floral in it.
Price : Php 99.75 for 100ml
Aside from sophistication, the sharpness in fragrance emphasizes the wearer's attitude. However, innocence means the lack of sophistication. Adore Innocent is not fresh and babyish kind but still caters young persona. Since the sweetness smells fruity too, adults might prefer a different and more mature scent than this.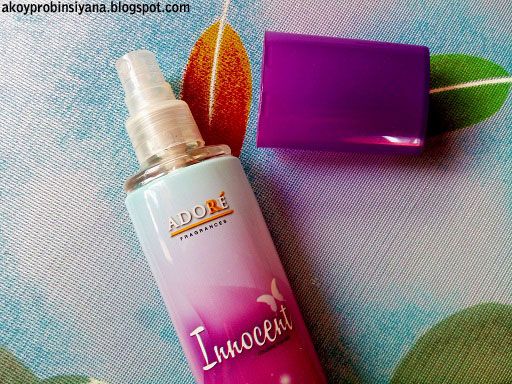 Pros:
It just a cologne but it can last for 4-8 hours.
Adore fragrances are affordable.
Suitable for teen girls and young ladies
It will not spill since the cap is very intact.
Cons:
I prefer a cuter and smaller bottle for Adore fragrances. Besides, girls like cuter packaging.
Since it's 100ml, it's big and kinda not travel friendly for a cologne. The cap is bulky too.
Recommend?
Yes for those who are looking for alternatives or very affordable fragrances.
Have you tried Adore fragrances? Do you use colognes too?