Candle making is known as a therapeutic pastime, but this particular whipped thing/icing candle can be draining during its initial phase. So if you plan to do the same thing, remember to not push yourself too hard and don't be in a hurry in perfecting to avoid burnout. Listen to your mood and don't set deadlines.
My goal here is to make icing and sprinkles out of whipped wax. With whipped wax, you won't be just relying to redundant mold to make a unique and interesting design. Whipped wax makes candle more pleasing to the eyes. I was not able to take a lot of picture while doing the whipped wax since I have to be very quick when working with this. Besides, having too much pictures in a blog post is an eyesore.
Let me start with this paraffin slab again since it's one of the things that is usually done first - chopping the paraffin slab into smaller pieces. I find this slab quite deceiving. You will see 2 layers here (but it's actually 3). The middle of the paraffin slab is opaque while the outer shell layer is translucent. I am wondering how they processed this in the factory and why there is an obvious layer. Again, I prefer a paraffin slab that is purely translucent in color. There are 2 kinds of paraffin; semi-refined and fully-refined slab. Not sure where this slab belongs.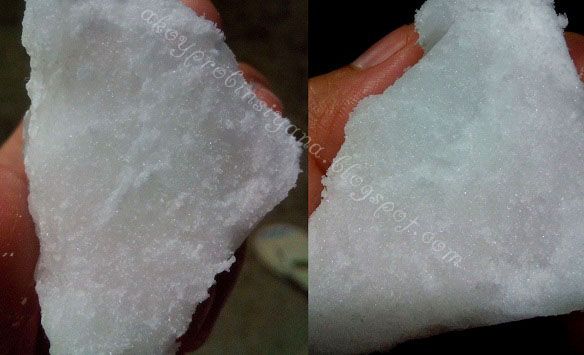 While cutting the paraffin slab, this chunk came out easily. Hopefully you'll be able to see those tiny sparkling stuff that I've mention in the previous blog post. But then, I've resized the picture and it affected the clarity of the image. Still you will see that there's some powdery stuff too. I love smelling this slab but I don't like the idea of this particles entering my precious lungs. Wear a mask!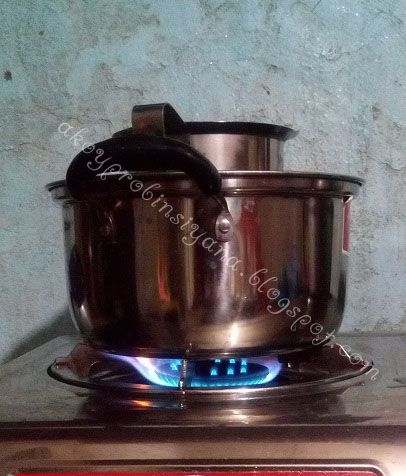 Something is currently wrong in our gas stove! The flame it produces is not equal.
This is my improvised double broiler wax melter. Broiler method is not very gas efficient. But for safety reason, it is important to use a double broiler. Another reason is, the wax don't melt equally at first. If I can overcook oatmeal in low fire (mostly because of not stirring it), how much more with this wax. Imagine instead of smelling a burnt food, you'll be in front of a flaming cookware because of an overcooked wax.
I believe the direct flame can still be used but you seriously have to keep an eye on it, don't overcook, and cook with a very low fire. I don't recommend that though. At least the water in the broiler method offsets the heat.
It would be nice to have a presto pot, but it's just for those who are serious in candle making. Besides, not sure if there's such thing in this country.
An improvised piping bag. I used a thicker cellophane instead of the usual ice cellophane available. Besides, there's no need to use a real baking piping bag since it's just a candle. I really hope that I could successfully use this nozzle because I've bought 12 of this. The one in the piping bag in the picture has a narrow opening, That might also contributed to my failure in doing the icing.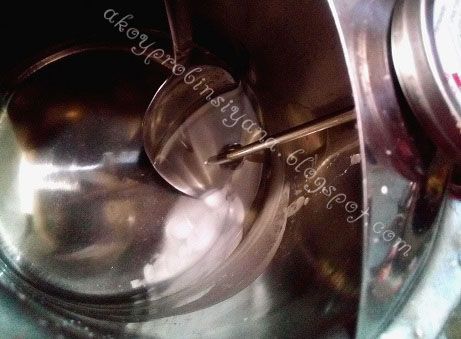 It takes 2 minutes for this thermometer to read the wax temperature. The more it is submerged in the wax, the faster it can read. But within that 2 minutes, the wax already decreased its temperature. A waste of heat or gas.
This picture shows why it's important to chop the paraffin wax. A bit of wax is still left at the bottom of this pitcher. Since this will be for whipping purposes, I intentionally left some wax unmelted.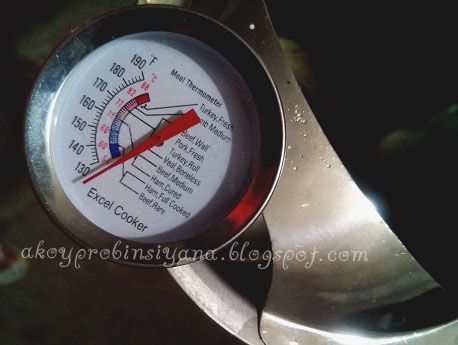 This is the temperature of the paraffin wax.
I only melted a small amount of wax since it's for practice purposes only. I will just remelt it until I get the hang of making a perfect icing. I don't want to melt a huge chunk of paraffin slab unless it's for a final candle. Less contamination means longer shelf life.
Lesson learned is to prepare the tissue and alcohol before attempting to clean the pitcher. Using wet wipes will make life easier. But looking at this already cooling wax, it's like a waste of wax to wipe it with tissue.
It's a challenge to take a picture. In just a few seconds, the candle wax already started to solifidy.
What a lovely bright color!. I wish that this paraffin wax will have a consistent color like this not only with whipping purposes but on real candles (talk about mottling). Remember in my other posts that I still have issues with this wax. The wax was still soft but it's already hard for a piping bag. This sure requires a practice.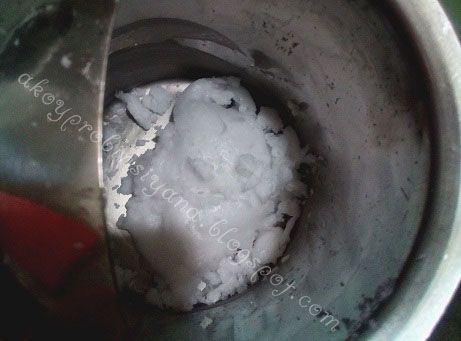 When working with melted candle wax, you have to be really very quick. This is how my supposed to be icing turned out. The wax in the nozzle hardened quickly that I can't squeeze the wax out. Only few drops of liquid wax came out.
The wax inside the plastic was very hot to touch, how much more if the wax was more liquidy and with a higher temperature? I did touch it to remove some dirt that accidentally got into it (insects) and the experience was like touching a melted wax. It's deceivingly hot! For sure you've already tried touching some liquid wax from a burning candle back on your childhood days.
Next plan:
Once the icing turned into a bright color even if it's still quite liquidy, put it immediately in the piping bag and wait it to cool inside the plastic or;
Don't use a nozzle yet. Just cut the plastic piping bag using a scissor and use that alone.
Please note:
Don't underestimate the temperature of the whipped wax, it may look cool but it's actually still hot. Don't let it get in contact with your skin.