I was waiting for the delivery and arrival of this products since this always been the easiest to blog. Unfortunately, it was not the case this time. After 2 despondent weeks, those previous ideas that should have been included in this post has slipped my mind.
And then there was this guy friend who asked for any blog updates. Seriously? A guy reading girly stuff? Books are not counted though. Why is that the majority of the guys I knew are not interested with books and as if they're allergic of it? Even if my other guy best friend started reading Dan Brown's books, I can't still coerce him to read books that is for him "baduy" and "nakakabawas ng pagkalalake".
Going back, it's really getting harder to think of what to say. There's this researching, reading articles, and polishing. I also want that a part of me reflected on those written words. There's also the pressure of catching the frequency of posts versus the quality. But I feel incomplete in the idea of abandoning this as there's something in this blog that give me a supplementary purpose.
But still there's ecstasy from stocking new products and to trying them later on...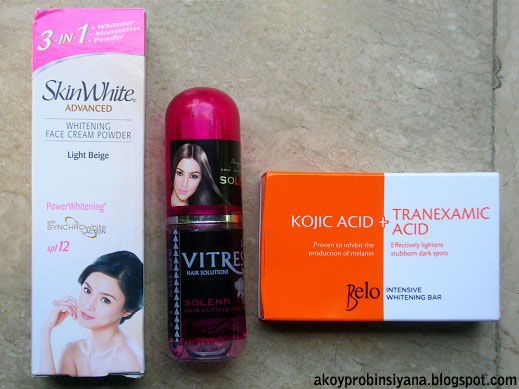 I consider this set as ordinary drugstore products. I stumbled into them before but ignored them since they're not yet needed.
I'm a user of
Skin White Cream Powde
r since college. It's a quick fix if there's no available powders and during those intervals where I'm still on search for another brand of foundation or just waiting for some stocks. There's something in this product that is worth repurchasing despite being low-end.
With the new
Vitress
co-created by Solenn, I'm not expecting a grand difference with their other variants. The only thing that stirs my curiosity is its smell. I find the ingredients simple with only the addition of "Aminopropyl Phenyl Trimethicone". So far, I haven't found a product that can compete with this. (I'm yet to try the Pantene Miracle Water).
Kojic Acid + Tranexamic Acid?
Kojic alone is effective as skin whitening, how much more if there's tranexamic acid and salicylic acid? Not that I'm desperate to lighten my skin, it's only because it's free that I will set aside my loyalty with Kojie San for awhile.