In old books and in televisions, they used to tell that there's no other way to remove stretch mark unless it's surgery. It gave me the impression that there's no other option and that the rest of my life will be spent with stretch marks. I learned about this marks during my high school days when my always frank sister pointed it out when she saw it.
It was an existing old stretchmarks that is definitely not caused by pregnancy. I don't remember scratching those areas. With the lack of knowledge before, I assumed it was the culprit.
Causes: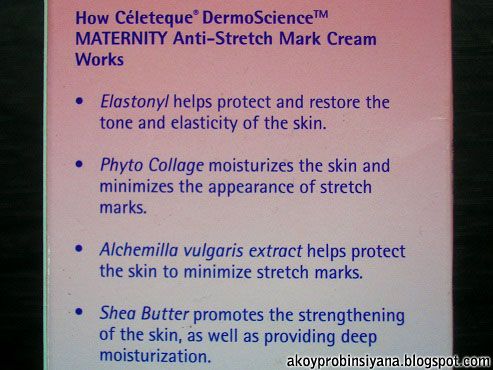 OB-Gynecologist-certified safe for pregnant women
Price: P 445
The prolonged span it took to finish the product almost exhaust my desire to create this review. There's almost displeasure when after finishing the half of it, there's no significant change. Only after ¾ of the product that it started to kicked in. That's something mystifying and unforgettable.
The stretch mark is still there, but it's a bit blurry now. The result is still promising given that it's an old stretch mark. It seems that a continuous use of this product (repurchasing it) and a gentle massage will help diminish the white streaks and improve the appearance of the skin later on.
In dealing with stretch marks, use a cream that can deeply moisturize and exfoliate the skin gently. Understand that the effect will take months before it will show and might not be completely removed. I'm fine with it as long as the marks is not too obvious and uncomfortable. After all, a product that is too penetrating and can break down the skin can be suspicious, perhaps harmful and has some side effects.
Experience with Celeteque Anti-Stretch Mark Cream
It smells floral and chemical at the same time. It actually reminded me of papaya like smell of products used to rebond the hair.

It's only sticky if excessively used. Just use the right amount to cover the area.

They made a good choice in packaging. The softness of the tube when squeezed is just right.

Cons:
-Takes months to work.
-Doesn't give instant effect.
Pros:
-Evens out the skin.
Repurchase?
Yes if I have a lot of money. No for I'm planning to try other products and compare which one is better.
Recommend?
Yes. But know what to expect.
Rate:
4/5.