I've asked my cousin yesterday to accompany me in the movie theater as usual. We were stuck between "Flotsam", "Spectre" and this another tagalog romantic movie. Deciding between the first two movie was a real challenge. Yeah, I've crossed out the last one without even looking at the poster until my couz read the title of this tagalog love story. "Everyday I love you" he said. That was the only the time that I've noticed it was Liza Soberano and Enrique Gil, the Lizquen love team from Forevermore. Despite of not liking the sight of Gerald Anderson there, Liza Soberano was enough to convince me of buying a ticket for two. Thanks juices that my guy cousin, who is currently in love and was possibly influenced by that, agreed of watching a tagalog film.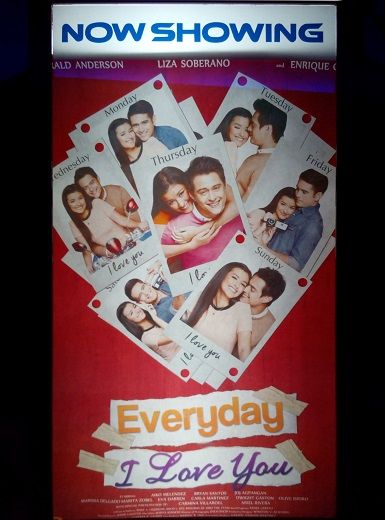 Should I declare myself as a Lizquen fan? I love the
Forevermore teleserye
despite not being able to watch it religiously during its airing days. I've mistaken "Everday I Love You" to their first movie which is "Just The Way You Are". Unfortunately, it was not available in our province. But EILY didn't fail to make me so super kilig including our companions inside the cinema.
Main Cast:
Ethan Alfaro (Enrique Gil)
Audrey Locsin (Liza Soberano)
Tristan Montelibano (Gerald Anderson)
"
Bitin ang story
" Couz and I share the same sentiment. As a fan, their tandem is granted to appeal to me but there are obvious missing pieces for those who have never watched Forevermore. The truth is, the quality of love they have in the story was not profound and does heavily relies to the charm and good acting skills of the actor and actresses. There are questions too that some people might notice. Is there love enough for each other or they've just took advantage on their already popular love team? Is that enough to choose Enrique over Gerald? My cousin also kept on asking me "How could they possibly carry the scooter at the back of Enrique's car?".
It's more appreciable if the message of the this film is not the love triangle, but strongly of choosing what you really want in life which is "hosting" in Liza's case. What you want in life is not necessarily a "guy" considering that the love they have in the story is not yet great and enduring. But of course, Enrique should still be included in the picture as a love that is just starting to blossom.
On the other hand, this new movie of them was very fun to watch. I've enjoyed it a lot and hope to see them in more teleseryes. The romantic comedy ended beautifully. No bloopers found.
Rate:
4.75/5
Recommend?
Yes
What can you say about the movie? Did you enjoy watching it? Do you think it's better if the title is "Scooter Girl" or "Silay Scooter Girl"?