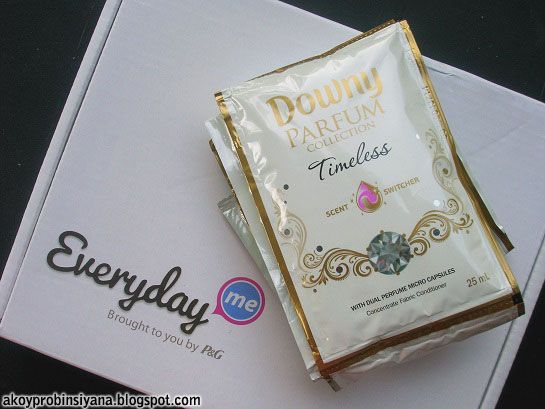 Pantene 3 Minutes Miracle
led me in this website. It all started just because
Sample Room
, after waiting for more than
5 days
for the package to arrive, missed to deliver my order so I have to wait a maximum of
5 days
for it to delivered again and wait another
5 days
before I could review the product and another
3 days
or more before they will approve my review. After that, Pantene sample (with free shipping fee) is disappointingly no longer available. Through reading the review of other bloggers, I have found out the Everyday Me Philippines is giving free samples of Pantene too.
I registered in
Everyday Me
website and availed the Pantene conditioner. It didn't arrive even when I have tried to follow up in the post office. How would I know if they even sent it, if the Kartero just didn't saw someone in the house to leave the package, or if it got lost? There's no tracking number, the sample history is not so traceable in their website and they didn't send an email pertaining to the samples you availed or those they have sent.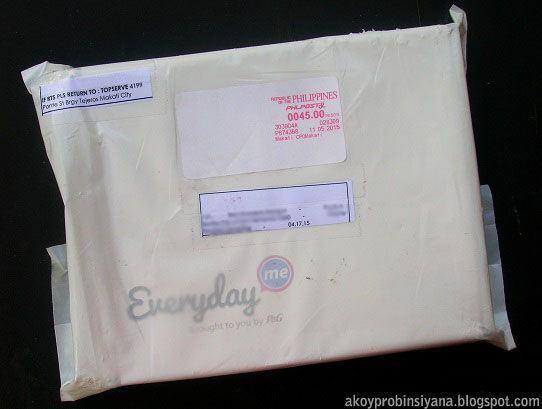 I availed Pantene 3 Minute Miracle, Whisper napkin, and Downy. Only the Downy sachet came. There's no coupons or welcome kit like what other bloggers have experienced. I live in the province and I am not covered by their delivery service. Downy did took 1 month to arrive.


I understand though that their gift vouchers is probably not redeemable in our place and I won't be able to use the membership card even if I'm really a user of most of their products.
When it arrived, Mom thought that it was a cellphone while I thought it was a BDJ box for I haven't seen it yet. Looking at it though, you won't have a hard time knowing that it's from Everyday Me since the logo underneath the plastic is obvious. To my surprise, the plastic is very easy to peel that I wonder if the experience is the same with others. Though initially, it was very coincidental that "Whaaat? I've just bought a downy awhile ago".
Adik lang :D
Well, at least everything is free including shipping fee.
April 17, 2015 is printed in the package. I received this sample last May 15, 2015.
Product received: Downy Parfum Collection in Timeless
I'm not yet finish with the sachets nor I have reviewed it in their website. So far the scent is familiar. I have already tried the yellow, pink and red variants of Downy before. I do feel that this particular Downy conditions the clothes and makes it soft and smooth. I find it more softening than the regular blue Downy though sometimes it's just a matter of using the right proportion of fabric softener and water. I will still be sticking with regular Downy such as anti-bac and
isang banlaw
mainly because it's cheaper. But it's really good to have other alternatives when you get fed up with your usual routine.
I'm glad to have this sample. I do wish that they will turn into a successful sampling site too. And also, I do hope that they will make their website more user friendly.