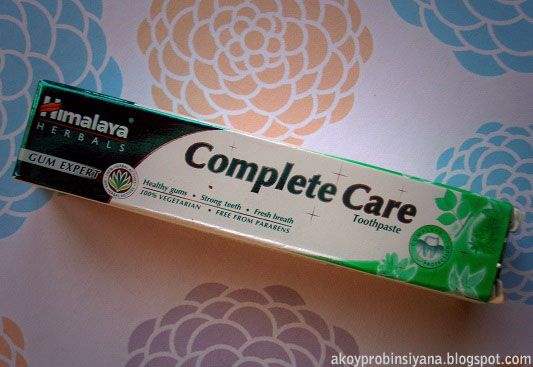 When it comes to natural products, they have their own way of working differently. This Himalaya surprised me in this part. This is the first toothpaste I've tried that contains a lot of natural ingredients but it works and feels like a regular toothpaste. It lathers well. It also has the same minty/coolness of plain toothpaste.
What makes it different is the light gray color of its paste. The toothpaste also has a
faint
rubbery/plastic/gas-like taste that possibly comes from the mixture of different herbal actives. It's not that bothering and it's easy get used to. Though there are times I wonder why they didn't totally mask the after taste. What specific herbal ingredient do you think contributes to the taste?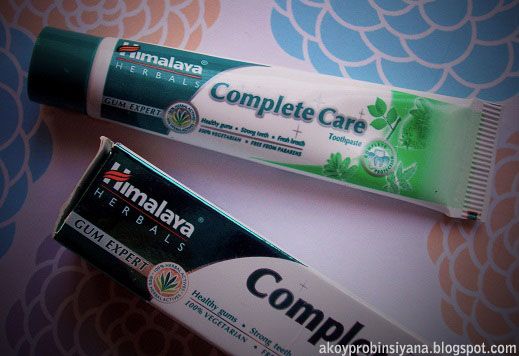 The gray color is not really an issue. Better than brown right? There's still a lot of people who dislikes the color though. If the gray color is really a big factor, then no wonder the Colgate charcoal toothpaste is mostly white instead of gray.
Packaging
I believe there's a need to change the design of its box. It gives the notion that it has a lot of green herbs in it. And since herbal toothpaste is still young in the industry, a blend of current design won't hurt. The design of the sample tube looks quite cheap and redundant with the box.
The sample is too small and lasts for 1 week only. It works just fine with my sensitive teeth but it's still a short week to say so.
Himalaya Complete Care Toothpaste:
Free from parabens.
It doesn't sting and it's not spicy.
Affordable.
Refreshing to the mouth.
A pea size still lathers well.
The expiration date is easy to read.
A healthier alternative.
Contains a long list of natural ingredients.
It has glycerin, sodium lauryl sulphate, titanium dioxide and calcium flouride.
There are also other variants of Himalaya toothpaste to choose from.
It has a green bar in the crimp!
I'm using a white soft bristle toothbrush and it turned slightly gray but I'm not afraid it will do the same with my teeth. Here's another product you can add into your list of organic/natural products.
Recommend:
Yes
Repurchase:
Maybe.
I like to let the other family member to try this too for the sake of something new.
This is still worth trying.
Rate:
4/5