The term "intensive" made me wary and kept me from buying the product. However, I'm glad to try a free sample of this (yet still costs me shipping fee) to challenge my impression.
This intensive whitening bar can be used for the face and body yet I used this in my body only. The skin in my face is already thinner for me to abuse it more. When a product is multipurpose such as this, I expect it to only work best in one area. My face is already exposed in whitening products than the rest of my body parts, so why would I still use a heavy duty whitening soap for that?
I still need whitening products for my arms though. Even if there's an umbrella, I still end up with dark and uneven skin tone.
I'm not familiar of
Traxenamic Acid
? Have you heard that powerful whitening agent before?
Reviewing product taught me to read the list of ingredients. Before, I just use any product and rely on the claims written in their containers. In my eyes, all whitening soaps are the same, they just differ in mildness/intensity. But now, I look for their active ingredients and try to research how that exact ingredient works. That's better than just reading a plain blogger's review.
The packaging of this has a feel of sophistication. It's easy to spot this along with other beauty products even if it has the same orange design like other kojic soaps. It stands out. The labels are nicely written too. The soap has a plastic cover with a strip of plastic that helps unwrap it.
It generously lathers like other kojic soaps. It's not
itchy
and
stingy
in my skin. Maybe because of different products I've used already. But for virgin skin? It might. It also has a squeaky clean feel. I didn't feel the softness of the skin that other bloggers experienced. I don't believe it's really gentle (for regular use) as it has 4 active ingredients like salicylic acid.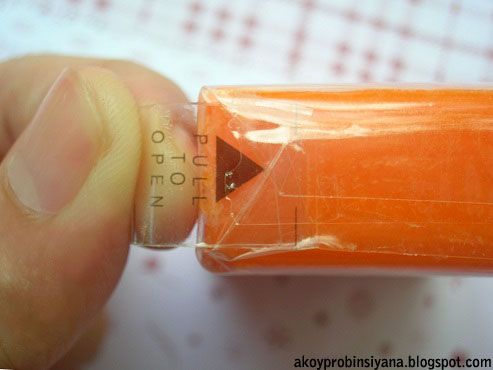 This Belo soap warns us to discontinue other whitening brands one week before using this. It did scare me yet the it's kinda impressive and hopefully other products of the Philippines will follow their lead. Their products is affordable and not overpriced for mass consumption.
My personal advice is use this for a short period of time and when the need arises only.
The exfoliation in the skin makes the skin dry. I used it once a day only. The exfoliation is just fine for me but not for the entire year. This will do for those who needed immediate whitening result but remember anything that is too much is still bad. Moderation is the key and skin needs rest too.
Recommend?
Maybe
Repurchase?
No buy maybe.
Rate?
4/5