Seeing a lone tube of this whitening face wash was unexpected since I'm looking forward for 2 samples like how it came with
Himalaya Purifying Neem Wash.
Also, the tube only contains half of the product but nonetheless a little goes a long way. I didn't use it instantly and was in the bottom of my list since I thought it was really a creamy type cleanser.
Reviewers from sample room mostly describe this as creamy. For me, it's not creamy in the sense that it has an oil or leaves a similar feeling.
This
Himalaya Herbals Clear Complexion Whitening Face Wash
has:
Saffron
Licorice
White Dammer
Pomegranate
Cucumber

It has some plant extracts along with huge list of unfamiliar ingredients that is either chemical or synthetic (correct me if I'm wrong). I'm into organic product but I have qualms and unanswered questions regarding the potentials and possible side effect of organic ingredients.


It doesn't lather but it
effectively
removes oil compared to other non-foamy cleanser I've tried. I did use some oil or cold cream to remove powder/foundation residue and used this Himalaya face wash after. It completely removed the grease from my face. It glides well if you massage it in your face and the
smoothness
it has make it hard to determine whether the cleanser is totally removed through rinsing. Strange enough, it doesn't make or keep the face moisturized.
It leaves the face
shiny
after few minutes. You'd be able to determine which part of your face is the oiliest and which part is not. The shiniest skin is the oiliest. The face becomes
stiff
too... and dry. It's not the typical squeaky clean feel. You really need a heavy moisturizer here. I use Myra E as I'm mostly comfortable with light facial moisturizer for my oily face but I use the
Himalaya face moisturizer
for a heavy side during the days I know I can tolerate it. Leaving the face too dry is like allowing premature wrinkles to exist.
It smells like a body soap. It
quite
strong but doesn't linger long and is not bothering most of the time. It really feels natural since only natural/organic products gives me a unique and weird experience.
It didn't cause me breakouts but didn't heal my breakouts. It's just fine for everyday use but when I have a sudden surge of pimples,
Kojie San
is still my shortcut and I only return to this Himalaya on normal days or after my face is cleared.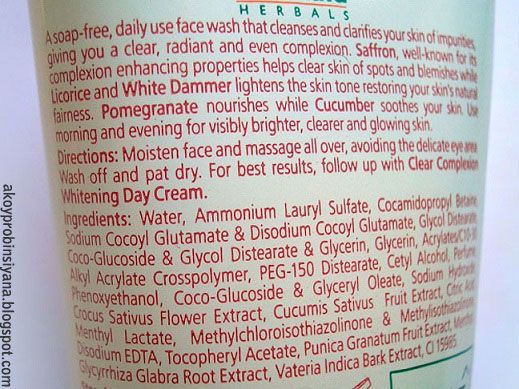 If only the tube is bigger, I might have a more positive review of this whitening face wash since a long usage can still change one's mind. And because of that, I will choose the
neem variant
than this when it comes to reducing pimples. There is no noticeable change when it comes to whitening. The mild whitening effect of this is more of a maintenance for me. It didn't gave me a clear and radiant skin and an even complexion. Maybe the whitening effect will be more effective if the product is kept longer in the face.
Dislikes:
The need for moisturizer.
Makes the skin stiff and dry.
The long list of ingredients.
The extracts are in the last part of the list.
Recommend?
No
Repurchase?
No
Rate:
3/5