Who haven't seen the trailer of
You're my Boss
? The way it repeatedly aired in television, it's as if it's telling us it's a promising movie. But the best movie doesn't need a lot of promotion; its success comes from words of the mouth of those who have watched it.
The Trailer
The trailer doesn't justify the real comedy the movie has. It could have been better if the "Oh my Gosh" of Coco Martin is omitted. But because it's Toni Gonzaga, who caught my attention after the proposal of Paul, I became interested in this movie.
What we didn't expect was that the scene in the elevator was really funny. Right from the start, the movie made us laugh and the humor continues for about 2/3 of the story.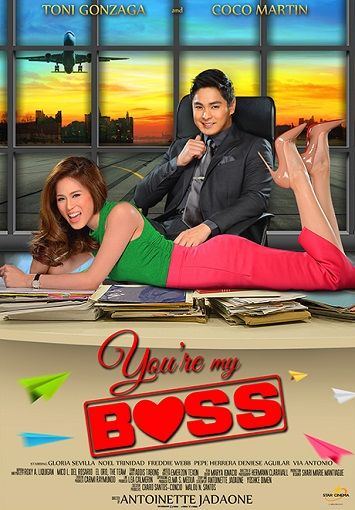 source: starcinema.abs-cbn.com
The Story
Georginia substitutes her boss while he is gone. Unfortunately, the big boss of another company rejected her when he realized she's not the real boss. It was an important meeting and he doesn't want it to discuss with a representative or an assistant only. For Georginia, it was her last chance to prove herself after the last scandal she made in the company. That's when Coco Martin appeared, and on the spot she made him act as their boss.
Does it always have to be a love story with a happy ending?
This movie could be made into a story of a friendship or just honesty as the main lesson. Love with opposite sex is not always what matters. How I wish Tagalog films gets creative and focus on other important and relevant things. If there's no chemistry, then they should stop pushing the actor and actresses to continue in that role. Love story may give them profit, but they also risk themselves of a bad image.
Their lovestory feels like a rebound. The display of sudden weakness makes me cringe. Oh, this movie could have been beautiful!
Toni Gonzaga
Toni portrays the stereotype mean boss. It's not really exaggerated because I agree of the existence of such boss. It made me wonder how those kinds of people with their attitude were able to climb high in the corporate world. Is that what it takes to be a manager or a leader? Maybe it's something we should consider now if we want to advance in our career.
Toni did well in the movie. She was the main lead here while Coco Martin was more of a supporting actor.
Coco Martin
Coco's effort and sincerity in adding humour in the story can be felt. But he should be more on intelligent and bad boy roles rather than easy go lucky, silly or ignorant roles. As Pong, it's sometimes surprising how he was hired at all. Pong looks incompetent.
My Favorite Part
When the other boss wanted to play golf again and Pong, who don't know how to golf, was doomed so he prayed hard. His prayer was then answered and the whole casts were stuck in the middle of the field holding an umbrella while it rains hard. Their expression was really funny together with the obvious fake rain
Good and Bad Things
Aside from the consistent laughter in the movie, they have promoted Batanes. They also tried to incorporate a moral lesson. However, some of the video of the island is jerky. Batanes is less vivid too. Maybe they should have used a better and high end equipments or avoided shooting while the sun is at its peak. It could be nicer too if they dig deeper in the culture of Batanes.
A tiny bit of it is rated PG. I was at first bewildered at the "tinetext" part. Then after that, there's the funny blooper in the elevator that small kids might not understand.