Collagen Essence Mask
Firming, Regeneration, Moisturizing
After my first unpleasant encounter with a sheet type mask from a different brand, I've accepted that they will not work well on me. I generalized and stayed away from it. But after I've tried this
Dermal sheet mask
, I realized that there are brands or lines that will still work even if they're supposed to work for a certain skin type only. Too bad it's mostly a trial and error before I could find them. Experimenting is expensive because you have to buy them and just run the risk of disposing them if they don't work.
The cooling sensation from a wet mask is relaxing as always though I wasn't able to relax on this because the selfie consumed my time.
The essence really remains on the skin after. It feels gentle and not penetrating for those who have sensitive skin. It doesn't sting the eyes too. I was really surprised when the effect was still there the next morning. I love the feeling of this mask than a typical moisturizer applied at night. The fact remains though that the effect is only temporary unless if this will be used regularly.
It contains abundant nutriment of vegetable Placenta which was extracted from leaf of damiana thus it provides tired skin enough moisture to keep the skin fresh and bright. Vitamins E and Collagen - It provides your tired skin nutrition and makes your skin healthy and bright.
There's an excess 2 inches cloth below my chin. The width is okay. It doesn't stick well around the eye area and doesn't cover the entire nose. There's a horizontal cut on the bridge of the nose that made me wonder if it's better if torn apart.
I won't rely on this alone for achieving a good skin. It will remain a way of relaxation and an occasional treat. I find it not practical for an every other day routine. Aside from an oily skin type, my face is quite problematic recently. A face prone to perspiration seems prone to sensitized skin too. That means less is better. I am only comfortable to use this kind of mask only on times when my face is clear from pimples.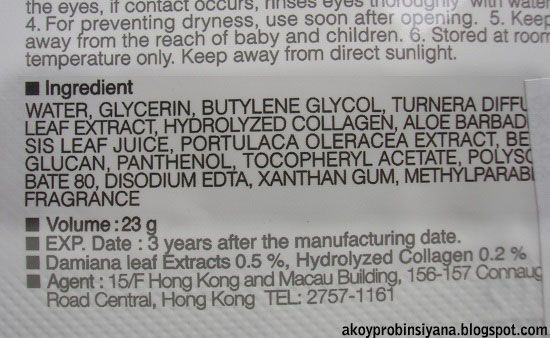 Pros:
The supple and moisturized skin lasts for 24-48 hours.
Nourishes the skin.
It doesn't cause skin irritation or break outs.
Instruction is well written.
It has a short list of readable ingredients.
I noticed that the sheet, even after removing it, takes a long time to dry completely. It took 1 night and a day to dry. That might suggest the lack of strong alcohol which is good for sensitive skin.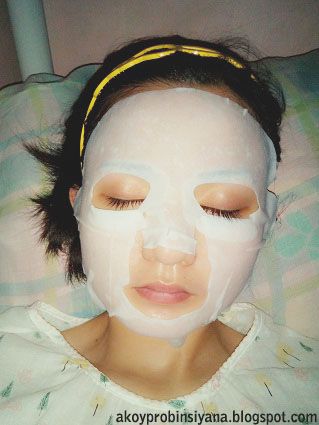 I cut a portion of sheet between my nose and lips since that area was sensitive that time.
Rub the excess essence only if your skin is clean. Let's say you've taken a bath. Use this at night so the skin could benefit better.
Repurchase?
Yes, if I want to relax and pamper myself. I want my sister and mother to try this too.
Recommend?
Yes.
Rate:
4.5/5