Herbal/natural shampoo usually doesn't lather richly so I was surprised with how this set turned out. The design of Moringa shampoo looks like it's an organic product but it's not. I was initially amazed when I first used it since it lathers and works like an ordinary shampoo with just a little twist.
Moringa shampoo feels very gentle to use. The unisex scent is clean and refreshing. At first, you might feel that it lathers like Sunsilk though the distinction between the two shampoos becomes noticeable if you use the Moringa longer. Aside from having a clear blue appearance (which sometimes looks green too), Moringa shampoo is not stripping and drying.
There's some transition on the first week. My hair oils up easily. It's like my scalp was finally allowed to breathe. After the adjustment, my hair became normal. My scalp feels healthy and alive. The natural oil of the scalp starts working to nourish the hair strands. I try to follow the use of shampoo on every other day only. If I use the conditioner alone on the second day (without shampoo), I noticed that the roots on the top of my head is quite oily but tolerable.
CONDITIONER
This also feels gentle. It detangles the hair and makes it soft and smooth. It's a good everyday conditioner for normal and virgin hair. The only con is the difficulty in rinsing and determining when it's thoroughly removed. It doesn't feel like Argan-y but it has a slippery smooth texture when rinsing it.
Pros:
Healthy and not drying for the scalp.
Cleanse well like your regular shampoo.
Smooth stroke when you comb using your hands.
Cons:
Those with dry hair might find this not moisturizing enough for their hair needs.
It doesn't help with dandruff but doesn't aggravate it either.
Packaging needs improvement. Few words looks distorted as the plastic covers the bottles. The instruction in shampoo and conditioner at the back of the bottle is identical. It's redundant and can cause confusion.
Others:
Nothing really grand for the final look of the hair but it feels healthier than using other commercial shampoos.
The shampoo, even the scent, reminds me of dishwashing liquid. Not that it's bad.
I need to use a hair serum with this.
Not sure if it contributes in minimizing hair fall or if stimulates hair growth. Maybe the way it cleans the hair alone helps in the overall health of your hair and scalp.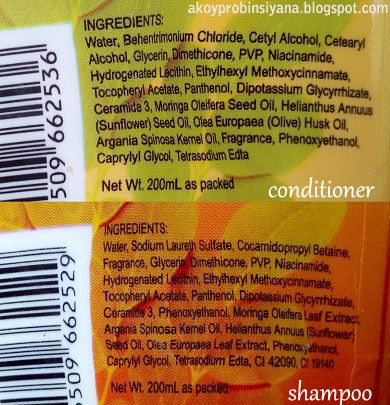 Repurchase?
I might consider repurchasing it. I rarely encounter a shampoo that is friendly and encourages scalp to do its job. The conditioner works well with the shampoo but I find it uncomfortable when my hair feels like it's not thoroughly rinsed (which might mean that an improperly rinsed hair is equal to dandruff).
Shampoo
Recommend? Yes
Rate: 4/5
Conditioner
Recommend? Maybe
Rate: 3.5/5