Price: 100php
I don't know what an "
abay
" truly is even after being a bridesmaid for around three times. My first bridesmaid experience will always be the most unforgettable and special of them. It's not because of the pretty dress or for simply being asked for but because of the unexpected short bond I have with my cousin, who is the groom, and the other pampering and luxury that followed.
7 years of relationship + dream wedding. It's such a wonderful wedding. I admire it. It's not like the other bridesmaid experience where they'll just take the body measurement, let you fit the dress and then only see each other on the day of the wedding. Since the groom shouldn't see the bride yet, I accompanied my cousin in the hotel and slept there.
Sayang kasi yung hotel, it's a room for 3.
It may be unintentional bonding but I'm glad it happened. It was my first time in a high-class hotel. I also appreciate that my cousin and I were able to eat breakfast together. It's a rare opportunity to not only be invited but also be a part of a wedding typical for wealthy people.
A once in a lifetime kind of experience way back early teenage years.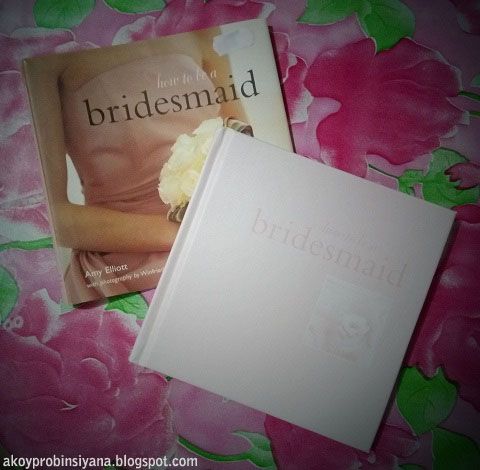 The cover is separate and the kind of paper used in the cover is prone to light scratches.
That's why I bought this book (aside from how cute the book is presented). It consists mostly of beautiful pictures and few paragraphs yet enough to give an overview of your role and duties as a bridesmaid. It's more of
entertainment
rather than a self-help book. There's a bit of history why a bride have bridesmaids and why guests give gifts. The majority are tips, suggestions and information that will enlighten you of your responsibilities.
I was really surprised of the real role of the bridesmaid. The word maid makes sense. It's like it's not a privilege at all as it will cost you time and money. You will pay for your own dress, pay for the other party and assist in plan for other minor events. Sounds like a scary burden? Don't worry, I doubt that it's the practice here in our country.
This might not be a problem if you are really close with the groom or the bride. For others, this might be too much or may cause hesitation in accepting the role. There's a reason why bridesmaids are part of weddings. However, my past experiences were just like presenting yourself, a time to prettify, share and feel the joy of that lovely event and be part of photo shoot later.
I wish that this book still emphasizes those responsibilities as a privilege or a bride's way of acknowledging those females she trusts or are close with. At some point, this book made me smile yet greatly surprised me. It didn't mention that these are all for
moral support
but feels like more of a mandatory task and an obligation. Or maybe, I'm just ignorant and this tradition is still strictly practiced.
Other Impressions:
This will serve as their token. If I'm a bride and will give this to my bridesmaid, I will tell them not to take some of the written stuff here seriously.
This book is short and easy to read which is in favor to those who don't like reading that much.
Rate:
4/5
Recommend?
Yes
Are you aware of the role of a bridesmaid or other pamahiin/traditions in a wedding?