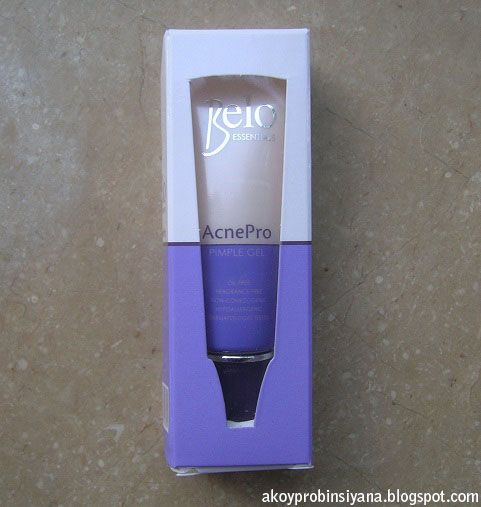 "Infused with Purified Bee Venom clinically proven to help treat mild to moderate acne."
Oil-free
Fragrance-free
Hypoallergenic
Dermatologist tested

Swatch
Smell/Texture
Since it is a gel, it has a light consistency. When it comes to smell, it's odorless.
Result
It is one of the painful ways to heal acne due to its stinging sensation. The pain would only last for around 1 minute and it's gone. For me, it's tolerable. Our acne heals itself with or without the usage of any products. Belo acnepro pimple gel helps in speeding up the healing process.
I want to believe that somehow it did help heal my acne. However, in every vanished pimple comes the birth of another pimple. It doesn't work with my closed comedomes. It doesn't instantly heal acne and this can be a good or bad thing depending on the point of view of the consumer. Healing would take a
minimum
4 days. The size of the zits you have can affect the span of the curing period.
What it does to me is it makes the pimple ripe until the day it's already gone.
Keep in mind that this product is for healing acne, not for preventing it. I only used the gel which is the last and third step of the daily routine. The use of facial wash (AcnePro Pimple-Fighting Gel Face Wash) and toner (AcnePro Treatment Toner) could lead to a much better result.
Likes
-I like using products that targets the affected area only
-Dermatologist Tested
-
Does what it claims
but not instantly.
-Expiration date is well printed
-Doesn't have paraben
Dislikes
-The tube looks yellowish when it should be white isn't it?
-I find the tube's cover big.
-It could leave a pimple mark.
-It stings.
-I believe that the printed instruction could be better they would make it a shade darker.
Rate:
4/5
Repurchase?
No. I will try another product.
Recommend?
Maybe this might work for you.