With:
Certified Organic Olive Oil
Natural Grape Seed Oil
Shea Butter
Vitamin E
Aloe Barbadensis Leaf Extract
Sun Flower Seed Oil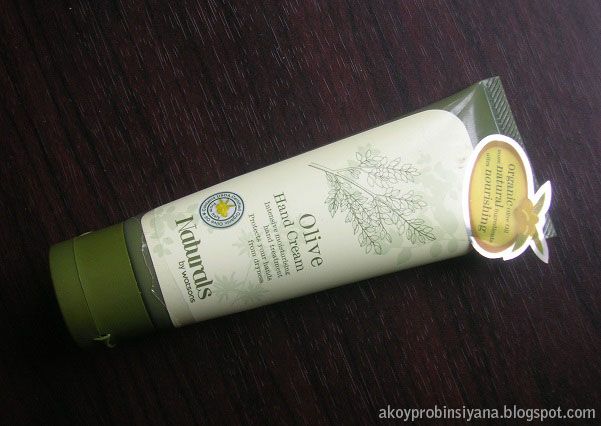 In woman's everyday dealings, part of it has our hand's exposure. Pretty good looking hands will leave an impression, give rise to admiration and perhaps respect, or will somehow reveal our personality and how we're taking care of ourselves. It is one of the parts of the body that usually undergoes criticism. Other people does look at our hands.
A hand cream is a necessity and part of the personal hygiene. Unfortunately, I am endowed with a very sensitive skin. It dries quickly and looks ugly especially in cold temperatures. To address the issue, I started using different hand moisturizer and gloves whenever I wash clothes or the likes.
I bought this product in Watsons and I wanted to try different hand creams. I had a high expectation with the product since it said to be Organic, Natural and at the same time is Nourishing. Or I was just a deceived costumer?
Packaging 4.0
I love the overall packaging despite my dislikes with huge tube since I used to bring them everywhere. I like the color combination and that goes well with its organic agenda. I like that it was sealed with plastic. Manufacturing date and expiration date is well printed.
Smell 2.5
During my first usage, it reminds me of Myra E but this one has a stronger scent. Recently, it reminds me of body perfumes. Initially, I like the scent but there are times that it becomes uninteresting.
Texture 2.5
The cream is not really creamy. There are times that this cream strikes me as bright white. It's not sticky, not greasy and not really thick. It is water based and very light and dissolves fast when applied.
Tips:
- Apply cream after bath to lock the moisture and prevent further dryness
- Drink a lot of water to hydrate yourself
Dislikes
-It has paraben
-It doesn't moisturizer my hands and doesn't remove flakiness of dry skin.
-Frequent application won't still moisturize the hands rather it makes it more wrinkled. (Can be the accumulation of starch)
Overall Satisfaction (My Rate):
1.5/5
Recommend?
No.
But since I used this product during the time of my stay in an air-conditioned room, results may differ
for those who stay outdoors
.
Repurchase?
No.
I will give it another try though if they will reformulate it.
Have you encountered this product before? Do you have a suggestion for hand cream?