This is my favorite soap. I've been using this since last mid-year. I started on my face and then soon in both face and body. I believe this is the most effective whitening soap I'd ever use. I heard my friends saying I gotten whiter. Comparing it to the past though, I have lesser time and money for beauty products and I was studying that I can't easily get rid of the sun so maybe it's one factor.
Don't use whitening soap if you're always under direct hit of the sun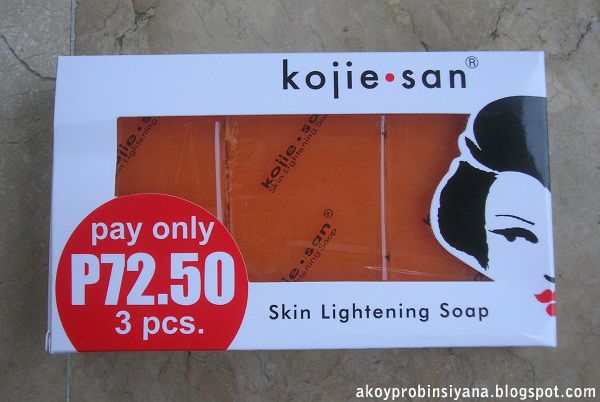 Where to Buy: Watsons or Mercury Drugstore
I can't completely recall why I bought this but I remember I was inspired from this one blogger who slowly exposed herself in changes. And also, I finally became conscious of the tiny bumps in my forehead. It doesn't really look like a typical pimple and it's not even itchy like an allergy. Still I believe it's an allergy, perhaps in dust, and I had that since high school. I wanted to resort in dermatologists but trying different product won't hurt for me.
The bumps slowly vanished within 7 days. Yet it comes back when I forgot to wash my face or I was exposed in too much dust. But come to think of it, if you only use it on your face the tendency will you will have a very white face that doesn't compliment your body. So better use it both to face and body.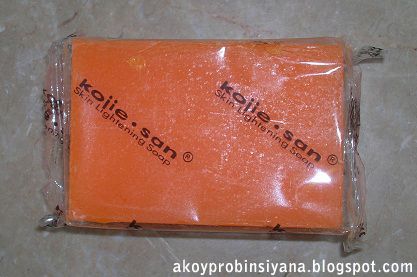 What is kojic acid?
Kojic acid is a by-product in the fermentation process of malting rice, for use in the manufacturing of sake, the Japanese rice wine.
~ http://en.wikipedia.org/wiki/Kojic_acid
Likes
-Helps combat tiny bumps in forehead
-Still lathers generously despite the small size
-There are times that I don't need to put powder on my face because of this soap.
-Quickest lightening soap.
Dislikes
-It melts easily
I have an oily face, or mild oily if there's such thing. Sometimes I don't use moisturizer after this. I use Myra E in my face as moisturizer. I experienced stinging too when I stayed it on my face for a minute or more. It even frightened me. Eventually, my face had gotten used to it and I don't experience itchiness now.
Tipid Tips
-Attach the small pieces of your Kojie San soap with the larger one.
-Price / Grams. Know which is cheaper by dividing the Price to Grams.
-Leave the soap in your skin for 2-3 minutes to really whiten your skin.
-The 3 bar is cheaper or if you want the cheapest, buy the biggest box.
-You can cut the soap into half.
Sometimes, after using this soap, I felt like super ghostly white as if I was soaked in white vinegar.
Rate:
4.5/5
Recommend?
Yes. But remember, there are products that might work for others but not for you. Be gentle on your skin… It's better to have a healthy skin. Know how some products' ingredients works.

Nice Read:
http://www.thedermreview.com/kojic-acid-cream/