Since I lost my Sophie Lipstick [Link Here], I decided to buy Sansan lipstick right away. It will took me more than a week if I ordered another Sophie and I can't bear to wait that long. That's because I usually just own 1 lipstick and don't understand why I should stock some. I call it, being practical.
In HBC here, you won't find samples and testers. Sometimes I wonder if they're near bankruptcy for their store gets smaller with time. And so, I didn't bother myself from asking the colors when I can perchance find it over the internet. I realized how wrong I am here. I should have asked the staff.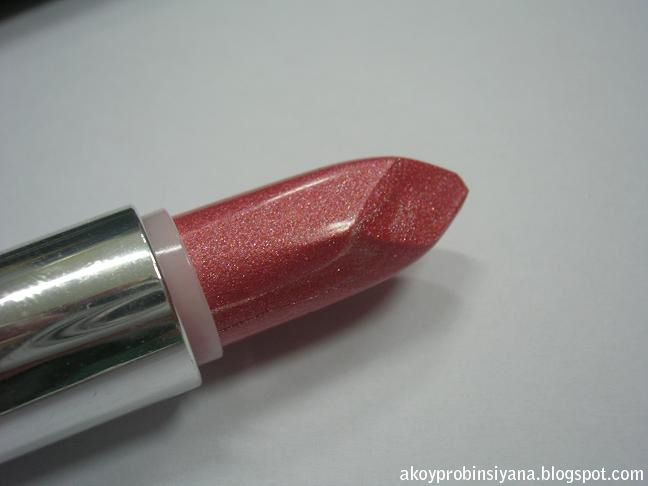 Over the net, I saw "Shimmer 01". Next, I went to HBC and grab the lipstick without opening it, reach the counter and paid it. I was dismayed when I saw the color for the first time. RED. I relied with the number "01". I didn't know that there is a "Hydrating Color Dew" set which is a different set from "Shimmer" and maybe the regular one. Too bad the color and container is the same.
Packaging
The tube is heavy as if it's made of metal. It looks elegant to me except that I didn't like the tip of the lipstick; the way the angle made is too pointed.
Lipstick
There is no doubt it smells cocoa. It moisturizing on my lips and feels buttery when applied. It probably lasts for 2 hours, other than that you can feel when it's no longer there.
It doesn't survive a meal and I'm not actually comfortable eating with wet lips.
With Flash
Without Flash
Perhaps it's a sheer lipstick, it is made of partial tint that still deliver a red tone and shine to the lips. I'm still undecided whether I like or hate it. I like the way it moisturizes my lips but I have a lip gloss so I don't really need that. Since the tint is not opaque, I can't use it as a blush for my cheeks. Yes, I usually use a lipstick as a blush.
I believe this kind of lipstick is good enough for those who want just a minimal effect. I know some conservative people who would prefer a simple look. It is comfortable to wear during the day but will not do in cocktail hours.
Swatch with without Flash
My look
This lipstick doesn't give a great contrast on my face. I still look plain, sometimes lifeless but much better than not wearing one. Nothing much has changed when I build it up. With proper lighting or powder on my face, it looks good on me. I believe it's RED. But not the red I find objectionable. Red gives me an aura of sadness and boredom, too serious for my age. I'm not fond of Red but the sheen in this Sansan lipstick made it look wearable and fit enough with my age and face. I don't like Red matte lipstick mostly because it doesn't match me. This is not matte.
Repurchase?
NO. I might try a different shade until I find the shade for me and with lots of different brands there, why would I stay in one brand?
I believe a pink one will give me a more feminine look and will make me younger; a lady in bliss, simple, sweet and graceful. However, I felt I'm too trying hard with the past pink lipstick I had.
Rate:
Recommend: