During the trending days of oatmeal, using soaps with real raw oats gave me doubts of its exfoliating ability.
Does it finely exfoliate the skin or it only feels like scraping it unevenly?
Another thing is it will only work when directly applied in the skin, just like how you use loofah and stone. Not that I am not a believer of the benefits of oatmeal. There's a lot of reason to love oatmeal especially of its internal health benefits . It's just that I prefer finely ground oatmeal for external purposes.
Cleaning Face with Oatmeal
This is a must try to satisfy a hungry curious mind and to know the cause of the oatmeal raves. Oatmeal is coarse when not soaked longer in water but is surprisingly soft when properly made. It left residues in the face so it's messy for those who have an active social life.
You don't want an oatmeal when you're applying your make up right?
During night time, it's hard to decide if it's okay to still use your regular moisturizer due to the same residue issues. There is no squeaky clean feeling but it does make the face feel soft. It can't remove make-up so you have to use a separate make-up remover if you really want to stick with this oatmeal routine.
Will I use this again?
Not yet, it doesn't suit my current lifestyle. I have to make sure to completely remove the powder and foundation residues at the end of every day. Maybe later in life when I will mostly stay in the house.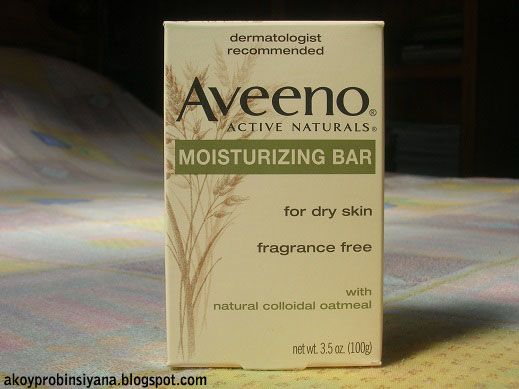 AVEENO OATMEAL SOAP
Since I haven't experienced oatmeal soaps yet, I grabbed this when I saw this on
Puregold
. Besides, it is a known brand some blogger use. Later, I found out that it's the most expensive item among my grocery purchase.
This soap distributed by Johnsons & Johnsons company is very mild to use. It doesn't feel very exfoliating and moisturizing at all which suits just fine for everyday use. It has a powdery smell like some chicken feeds or somehow it does smell like a chocolate. The bar has tiny flakes of grounded oats you can use to exfoliate yourself.
The instruction indicates to wash the face with this but I use this in the body instead. It has the word "for dry skin" but still works fine to my normal body skin. It doesn't feel heavy nor greasy. There's no problem with rinsing the stuff away.
Likes:
It doesn't melt fast.
The lather works like ordinary soap
The oats is finely milled.
Doesn't leave residues.
Naturally healthy-looking skin
Dye-free.
Dislikes:
Not really that expensive but is pricier compared to regular soaps.
Some may have a hard time finding this product on stores.
I am not comfortable with the scent. It's fragrance free though.
Rate: 4/5
Recommend: