When it comes to pressed powder, I want to invest into something worth the price. With so many choices in the market, products mostly doesn't meet expectations. Usually higher price indicates quality. It's just that you have to go find the store (which is typically far) or order from a catalog without trying it first hand. Worst scenario is to realize you've bought an expensive pressed powder that works cheaply. As much as possible I want to find a dupe or even something that ranges between cheap and expensive but still works perfectly fine.
Initial Dislike
It has a matte finish that gives me a dull face or sometimes lifeless look. It was then left unused. When my other cream powder gotten empty, the left choice is to continue using this. I always feel sorry for a wasted money anyway. I was able to finish it. Nothing too great and there's nothing too bad either. Maybe I just have too much expectation on the label "oil control" it has.
Non-comedogenic.
It only broke me once on a very humid day though on earlier parts of the usage it kept pimples at bay. It also has SPF so it means it helps avoid early wrinkles.
Packaging
Their packaging is decent and elegant compared to other drugstore brands. However, it's still not very accessible in drugstore from from far provinces. It's bulky to put in the pocket of jeans. The applicator looks cheap and creates a chalky effect on the face.
Sturdy
. I once dropped it and instead of broken powder, the pan detaches from the container. No need for alcohol repair, a double sided tape will do.
Staying Power
Too bad it works like ordinary pressed powder. The only advantage of this is it's more portable and the shade suits me better than loose powder that could give a ghostly white look. There's need to reapply every after
3 hours.
It's better to blot the face first with a blotting film to avoid looking cakey. How I wish for the powder to stay the way it looks when freshly retouched. It's gone after, not sure whether it melts from my face oil, just accidentally wiped or other reasons yet to know.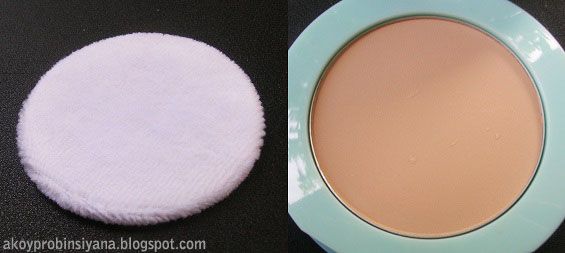 Like any other pressed powder, it looks unnatural when freshly applied especially in the morning. It's only when the face starts to sweat that it looks right. What's nice with this is that so far it's the only powder I've tried that is blendable even if you applied it right when you're sweating. Though at the end of the day a blotting film is needed since no matter how much you apply it, it has no effect. Blot the oil first!
Aside from matte look, it feels creamy in the face. Dewy? Sort of. It doesn't have shimmers to make the face glow, it's more on plain powder.
Likes:
No skin irritation.

Huge mirror.
Dislikes:
It can't hide big pores.

No testers available.

It's hard to find which shade does suit.

It has SPF but has parabens.
Rate:
3.5/5. Low rate because of the applicator and the false oil control.
Repurchase?
No. I'm planning to try their BB stick.