Even if trying different beauty products seems fun, there are times that appreciation of simplicity and mildness sinks in. Being natural is a very nice campaign. That is why organic things are given a mass spotlight. However, simple is being natural in some sense right? So it's only appropriate to
try a simple approach first. Ironically, embracing organic doesn't look simple at all.
Back to Burt's Bees, this is the first commercial organic hand and body lotion I have tried despite its sample size. When it comes to lotion, I want to feel like I splashed myself with water and for that to stay without the feeling of warmness and heaviness.
Smell | Texture
I understand why other doesn't like the smell. It's far from those common drugstore lotions; it doesn't smell like a perfume nor floral. I was even surprise when I first got the chance to smell it. It's not yummy like what I am expecting it will be. It's somehow familiar though. I just can't figure out where I encountered the scent in the past.
There are times it can get
overpowering
and can worsen headache while traveling. It has the smell of orange blended with another scent that I find far from the milk I have in mind. The smell of honey is not dominant. Still, I can ignore the smell because it's an organic product.
It's not a very moisturizing lotion. It dries quickly and is liquidy. It's not the kind of lotion I want for my hands. It's more tolerable to use it in the other parts of the body. It's only good for one application since it's not that hydrating too. I'm having a hard time spreading it as it is absorbed by the body quickly before it can be distributed well. Weird enough, a little goes a long way.
This still works as there's no sign of dryness when you scratch test your skin. There are
few
times it gives a
sticky
feeling even if applied in small amount. Since it's only a sample, I used it on my
arms
mostly
.
I didn't experiment of frequent application to know if it gets overly sticky. Since the last skin irritation I experienced, I start using lotion moderately.
I've learned my lesson.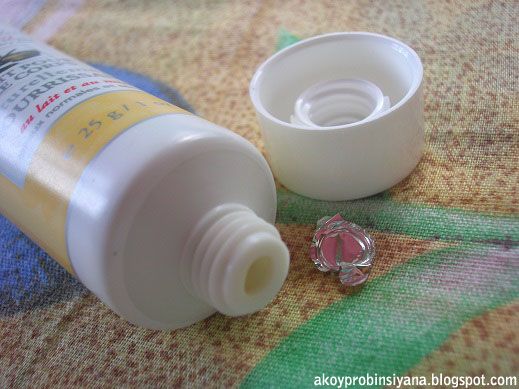 True enough, it feels like milk and honey applied in the skin. (If you ever have tried putting a real honey and milk in your face or body). This effect will last a whole day when you use the Burt's Bees lotion.
Packaging
The bottle looks very fresh in the eyes and has a quality feel even if it's a sample bottle only. It's just that it's hard to get the right amount of the product. You get more than what is needed. It would have been nicer if it is in a pump bottle. The sample is good for 2 weeks of use.
Likes:
It gives the skin a white thin cast that reminds me of Instant Fair lotion. During the first weeks of use, my arms seems glowing healthy. That was my favorite part with this lotion
It seems that using this while exposed to strong sunlight is not a good idea though.
Repurchase?
No.
Rate:
3/5
Let me know if you like this product too...