The shipping fee of this products costs around
P160
. Oh, is there another increased of shipping fee? With this, I did ask myself if everything is still worth it or if it's wiser to try another sampling site. Then I found out that the increase was due to the total weight of this products. It's around .75kg. I should have chosen another combination of products and maximize the weight range. It would be nicer if the increase is around
P10
only, from
P140
it will become
P150
instead of P160.
Payment
The payment is P180 for over the counter Gcash transaction. I paid late due to attempt of doing the transaction using Globe sim card, but that's a
failed story
. So after 2 days, that was the only time I was able to fully pay this loots. For the next orders though, there will be less hassle in payments as I created a new Gcash account.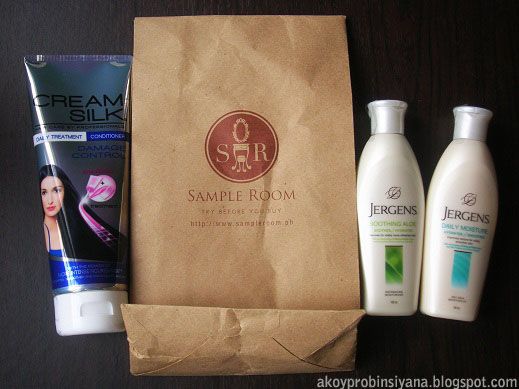 Delivery
Late payment means late response from SR too. It's a relief when the order was not forfeited. The product was delivered after the expected 3 days arrival.
Packaging
The original brown paper bag is back. Well, that's just fine since it's more environmental friendly. I just noticed lately, they don't use bubble wrap anymore. (I was even thinking of giving that to my tita as it was one of her stress reliever).
Sample Room Hauls
1. Creamsilk Daily Treatment Conditioner (Damage Control) - 180ml
With the power of more intense nourishment for softer, smoother and damage-repaired hair.
Pink Stripe - Treatment with Vita-Boost Complex, penetrates hair deep inside to nourish from within and reconstructs damaged hair.
White Stripe - Conditioner makes hair softer and less prone to damage by intensively repairing affected areas and protecting it from heat, styling to prevent hair damage.
2. Jergens Soothing Aloe - 100ml
Revives for visibly more refreshed skin. With an illuminating HYDRALUCENCE blend and Cucumber Extract and Pure Aloe Vera.
Soothes dry skin. Revives skin's natural moisture factor for visibly refreshed-looking skin.
3. Jergens Daily Moisture - 100ml
Improves texture for visibly smoother skin. With illuminating HYDRALUCENCE blend and Silk Proteins and Citrus Extracts.
Provides a continuous multi-layer of moisture to smooth-dry, rough skin.
Product Impression
The new
Creamsilk Daily Treatment Conditioner
's size still surprised me. It's huge. However, the
Jergens
lotions were small and the way the bottle is designed made it look smaller. The color is dirty white too.
I chose
Creamsilk
since it's my main conditioner and the longest brand I've used. I am not a fan of
Jergens
because it's moisturizing for the kind of weather we have here in the Philippines. When my friends said it made them more
balbunin
(hairy) I started avoiding it. It's just that I love most of the products that has an appealing green design and that Jergens lotion has an aloe vera in it. Why not with my
good Aloe Vera Experience
? The other Jergens is for my Mom.
How about you, what mode of payment do you use in your transaction with Sample Room?