Because I spent the horrible morning alone, I decided I'd better treat myself. I'm bit better compared those past few days where I will wake up in the morning due to painful headache and fever. Maybe all those heat went to my head.
Adventure and Gate Crashing.
I thought of describing this as "little adventure" but somehow I felt like a little villain. This New Year and a villain for this adventure? Guess? Because there's no consent from the owner when I went into their house. And because of that, I wouldn't post pictures of their house here, only some objects that fascinated me. Anyway, it was a rest house not far from beach. Since my cousin was doing some errand, he invited me there. With the care taker's consent. Just like our usual habit, to take pictures.
The little mansion is nice. Yet I cannot say that it was totally beautiful. There is something missing that I can't figure out or maybe I'll never will. Even with the presence of the garden, I cannot feel the life and warmth of the place that you will usually find in the places that's being dwelled. Imagine yourself in a paradise all alone. Though this may not be the only problem, maybe the design doesn't complement the other place. Even the garden feels sad, they are not well taken cared. I wonder if the gardener is doing his best with the plants. (I used to see healthy plants). The landscape is dry, I prefer more and healthier Bermuda grass. This is something I'll gonna miss with my own father, his resourcefulness in landscaping.
No plans. No decisions. No proposed activities. I'm sick and I'm partly tired plus the effect of the medicine has already weakened. But still I have to do the planning. That's my guy best friend. Sometimes a pain in my ass.
(Peace esp!)
He went to fetch me but went into the wrong house. Certified Epic. I wonder why. It makes my brain bleed.
We entertained ourselves by some story telling while having some night meal in KFC and then just went home after. Anyways, I received a gift from him, a supposedly birthday gift on September. Since I was sick, I wasn't able to buy a gift for him, though I said before that I have a change of mind and will not buy anymore.
When a guy buys the wrong stuff toy
This is why I am afraid of receiving gifts. If only he pays attention and remember things, and think of something that really suits my personality. Nonetheless, I'll keep this as this is my first ever gift from him.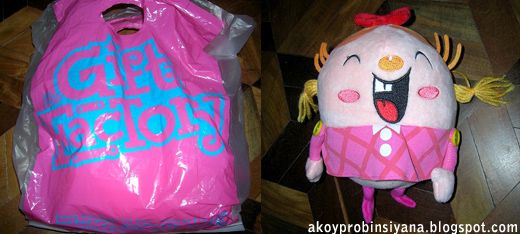 Best Friend's Gift