I got sick. And so I got a reasonable escape from something, but I missed our family reunion. I wonder if this is a blessing or just not a lucky day or God has a reason, or it was just me whose effort failed or I really not gave much effort. I got plans. I'm in the middle of my preparation. Maybe the universe doesn't want some things to happen. I had a fever during the last night of 2013. I stayed alone in the house. Noodles for dinner. Even blocked in SMS texting. End of
free internet
. There's one thing that I wish didn't happened though. That part I wouldn't share. I wish some things would change for better so it wouldn't affect others.
I still had a small feast this Mega Noche. Some tired fellow in his borrowed bicycle, a friend of mine, cared to drop by and gave me some food though.
So far, I realized that happiness is a choice and it's time to be happy. Some of us are happy and some may drag the happiness out of us. I will now break the cycle and try to be happy and even seek for it!
Reflections next to happiness.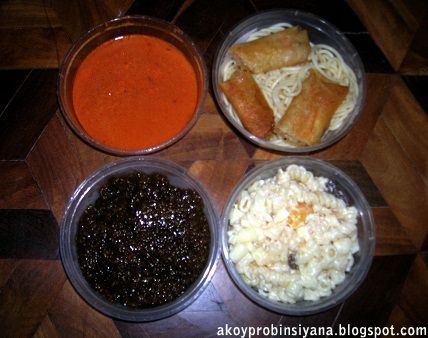 Something I ate at New Year's Eve