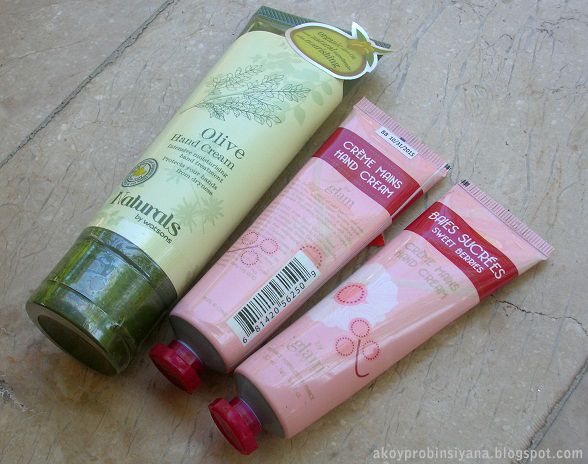 I'm not planning to drop by in Watsons since I still have 3 lipstick with me, that's too much or enough. I don't know. I still have the press powder I seldom use (I wish its two way cake I have instead) and the
blotting sheet
that I'm too lazy to use. I also still have the collagen mask for my eye bug which I lost the desire to use since it irritated my eyes the twice times I used it
I have some wish list though:
1. A
lips scrub
to remove dead skin or lighten my lips. There's no product I know yet. I wanted to try honey. Or maybe a brown sugar and lime instead of lemon. I can't get the best of light pink lipstick due to my dark lips.
2.
Blush
or Darker powder. I want to learn and make an illusion of a longer and slimmer face.
So I have a few haul here. Nagtitipid pa din. Yup, I still went to Watsons to accompany a friend. I find myself lucky for finding a hand cream since I didn't on my last visit.
1. BAIES SUCREES Sweet Berries Hand Cream
P32.00 for 30 ml
Buy one take one. This is my favorite hand cream so far. It's not greasy and it's enough to make and keep my hand hydrated.
2. Naturals by watsons Olive Hand Cream (Review Here)
P99.00 for 60 ml
Claims to be organic. I'll make a review later. It also has a grape seed oil, Shea butter and Vitamin E.