I saw this once from other blog and it made me wish that I could also try this someday. It was such a luck when it came in stock during my VIP subscription in Sample Room.
This review made me realize that nail and cuticle are different from each other. The
nail plate
is the hard stuff made from keratin proteins while the
cuticle
are the white dead skin cells in the sides and the folds of our nails. Burt's Bees Cuticle Cream is a dedicated and a gentle product that moisturizes our cuticle.
Cuticles prevent us from acquiring infections and protects the nails. A nourished cuticle will encourage a healthy nail growth.
Before this, I use baby oil or a hand lotion to get rid of the white stuff in my nails. I didn't know back then that it was what the cuticle remover is made for and thought that it's just a remnant of soaps. To use a different dedicated product gives an assurance that the delicate skin is treated with gentlest way while it meets its proper needs at the same time.
I was expecting it could hydrate the
free edge of my nail
for it's usually the problematic part that gives me a dead nail look but this product has a dry consistency that is similar to a Sebo Macho. It doesn't have a greasy feeling though. Nonetheless, it melts in the nail while it gracefully moisturizes the dry cuticle. Just add more cream if there's still some stubborn flakes. Using this appears to encourage faster nail growth too.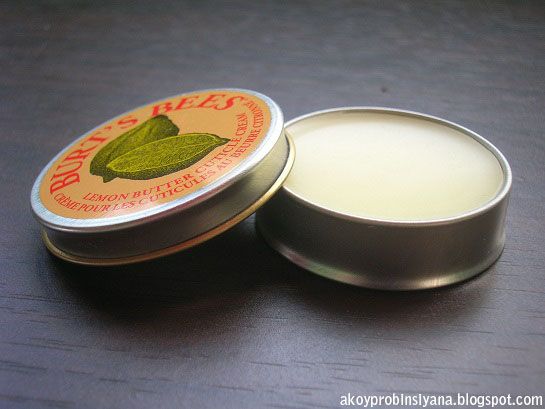 Smell/Packaging
The strong lemon scent is the first thing you will notice. It smells so delicious that you will feel tempted to lick it. I didn't know the smell of an artificial lemon from real one. It has a hint of gas like smell or perhaps it could be the smell of beeswax. The sample product is packed in a vintage looking tin with a classic design too. The tin is very hard to open and you could accidentally knock the cover into the cream. I just wish that the list of ingredients are included and the expiration date does not fade. It doesn't give the nail a superbly gloss look but it's enough for it to look healthy.
Another likes:
A nicer alternative in making the nail clean, polished and neat looking than using a harsh cuticle remover and a scraping tool. With lemon , it helps in the absorption of other included ingredients too.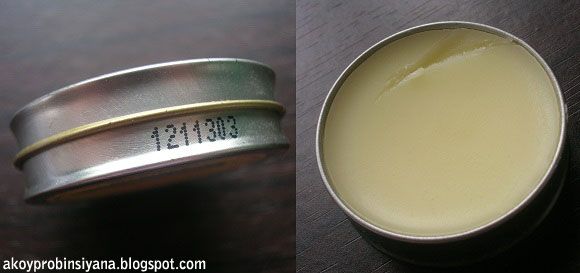 I accidentally knocked the cream with the tin cover.