If you don't want getting an impression that is far from your personality, wear the right shade. Wearing red lipstick in the past has gone through arguments and controversies. Bold colors were worn by performers and ehem, prostitutes. Well, that's in the past. I'm just a teenager when I was given my first lipstick. They should have given me lip balms instead, ewan ko ba.


I was hesitant to try Crema as it looks somehow similar with my previous lipsticks, but then the only way you can find the shade that suits you best is to have a first hand experience. Merely swatching it on the side of the hands is not enough for beginners. (Unless the skin in your hands and in your lips really looks the same). I have dark and dull lips and I really don't find swatching helpful. There's a lot of contributing factor too that makes it different once applied in the lips such as the consistency, pigmentation, thickness, luster, ingredients, skin tone, looks, personality etc. So even after you swatch it in your hands or forearm, it will not be the same as what it will be in the lips.
Two reasons to resort for swatches:
- It's very unhygienic to try testers in the lips.
- It's common that what you see is NOT what you get in lipstick..
Being able to try lots of lipstick will make you an expert eventually.
With Crema, there is a love at first swipe. This is how I wanted my lips to look forever. It's close to the natural shade of my lips, only safer and lighter but conservative and passive in its pinkness. This works well with matte foundation since the creamy texture gives it a life. Wearing this while taking a meal is awkward and it leaves the tongue a feeling like you've just taken a medicine – not really that bitter though.


Doesn't last long. Staying power is the same for average lipstick. 2-3 hours.

The shade mostly suits those who have fair skin..

There's a creamy feel.

Retouching part is a hassle.
Despite the kind of moisture this crema lipstick offers, it doesn't condition my lips for the whole day. Chapped lips starts getting bothersome once the lipstick is gone.
There are times that it
doesn't
feel
very comfortable and quite warm, reapplying is a remedy though.
This is a great everyday lipstick. It makes the face softer and gives an air of tenderness.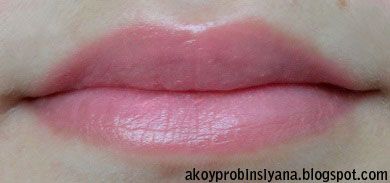 No because there's still other products to try. Considering its being a perfect pink shade, yes if they will improve the formula


Maybe. If you wouldn't mind the creamy texture and its lasting power.