It sucks I know, since I lost my FD it's like I lost a bit of myself too. Anyways, I might cheat with my blog by posting backward again. So far, I'm having a head ache with access. What the heck is happening with this? It keeps on popping.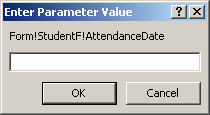 I watched it a number of times, thought of possibilities, looked at the spelling very well. Can it be that they left some instruction unsaid so not to make things easy (like some other people's work). And then I heard it…
It was an instant hilariousness, as if I was mad and insane and I can't get around without a laugh on myself. That's what problem solving is…
But admit it, not being able to find answer is excruciating. It's hard to accept whenever a why is unanswered. Maybe I'll try to do more of simple problem solving. Not some big one, I might get very pissed off.
Anyway, this is the tutorial I was watching and my error was it didn't occur to me to type "forms" instead of "form".