A long soak in a tub of milk seems a wonderful experience to indulge with. It's a luxury of wealthy woman of the past and a way to relax ourselves while we get out of the buzz of our busy world.
I learn about Dove because of the old book I used to read. It has different suggestions for mild cleansers such as Cetaphil and Dove although it's really the commercial that push me further. There is this Dove bar soap which claims to have no preservatives and is packed in a white and green box that I use before. I only stopped because of the myth that moisturizers are bad for oily type of skin.
Milk baths benefits dry or sensitive skin. The milk helps moisturize the skin because of its fats and proteins. However, vitamins in milk are not really absorbed by the skin if topically applied. These vitamins are either intended to be consumed orally and would benefit inside instead. Some ingredient needs to be altered first to become compatible to our skin.
Smell/Texture
It's the only body wash I've tried that doesn't lather too much and smells a hint of milk which makes it far different than other brands. A shower puff is necessary to make it foam though you can directly apply it on your skin. It don't lather well with wash cloth. It primarily has a strong scent that almost wards me off. The effect was a surprised for it only leaves a mild scent on the skin that reminds me of evap milk in can.
Ingredients
Water, Cocamidopropyl Betaine, Sodiym Laureth Sulfate, Sodium Cocoyl Glycinate, Sodium Chloride, Glycerin, Fragrance, Sodium Hydroxide, Sodium Lauroyl Isethionate, Stearic Acid, Acrylates/C10-30 Alkyl Acrylate Crosspolymer, PPG-9, Styrene/Acrylates Copolymer, Lauric Acid, DMDM Hydantoin, BHT, Sodium Palmitate, Sodium Benzoate, Tetrasodium EDTA, Sodium Isethionate, Coconut Acid, Glycine, Sodium Stearate, Citric Acid, Sodium Palm Kernelate, Methylisothiazolinone, Zinc Oxide, Tetrasodium Etidronate, Alumina, CI 77891
What is Lipids?
The bottle of Dove mentioned about skin-natural lipids. Lipids make the natural moisture of our skin intact. It helps in water retention by preventing its loss in our skin. One example of lipids is the fatty acid found on sebum. The pollution, sun and soaps we use on our skin have a damaging effect in our skin cells. The lack of lipid will make the skin weak and prone of infection or else the appearance of wrinkles and dry/scaly skin.
Review and Impression
Using this feels like a part of the body wash is absorbed by the skin. It isn't greasy or slippery and wouldn't give you a sudden thirst for lotion. The greatest part is I didn't feel uncomfortable at all (which usually happens when I use shower gels). It's the only body wash that is true to its claim of moisturizing the skin. It's also my favorite of all the body washes that I have tried.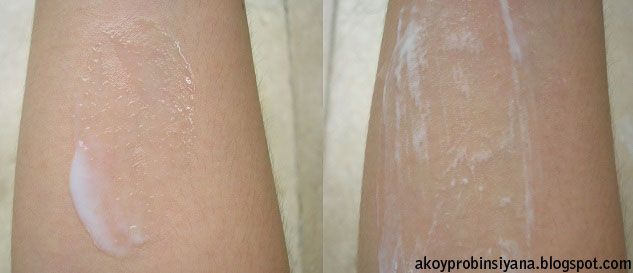 I rubbed the milky cream on my skin and it lathers. The foam vanishes quickly so I have to add another cream and rub it again just to have a snapshot of it
- Big difference compared to other brands. This is the formula that I am just waiting for.
- The only body wash that makes me feel truly clean and hydrated.
- It doesn't give me a heavy feeling.
Cons
- What is Nutrium Moisture? How does it really work?
- There is a tendency of using a larger amount of the body wash.
- The scent doesn't stick on skin when you bath with hot water.
Rate:
4.5/5. I hope that they increase a bit of its fragrance but not to a point that it becomes too strong.
Recommend?
Yes
Repurchase?
Yes
Are you using Dove too? Or do you like other brands of body wash?