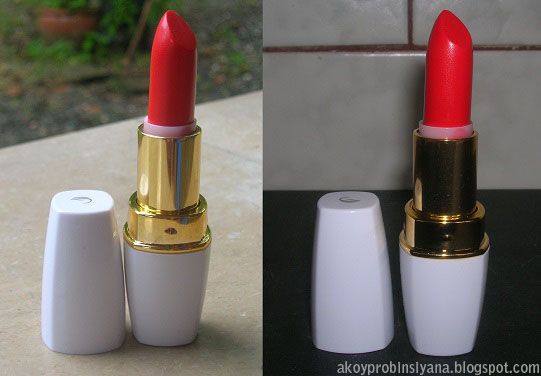 Natural Light and With Flash
Red is very sensational color. Wearing it is like showing you're a woman grown and not that innocent young lady anymore. It gives a professional look and the feel of superiority.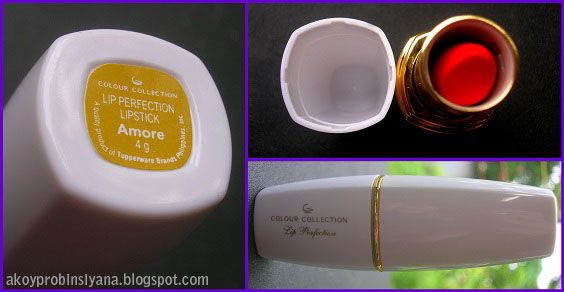 Price: P 399.00
There a times during my teenage years where I argued with mom on lipstick she insisted me to wear. She likes attention grabbing colors that somehow really complements her. Back then I wanted something safe and natural looking. The kind of lipstick that goes well with my complexion but won't give a hint that I am wearing one. Being so naïve during those days, I wore a red lipstick in one school occasion and a concern friend told me, "You don't look well in red". Since then, a red lipstick is a no-no for me.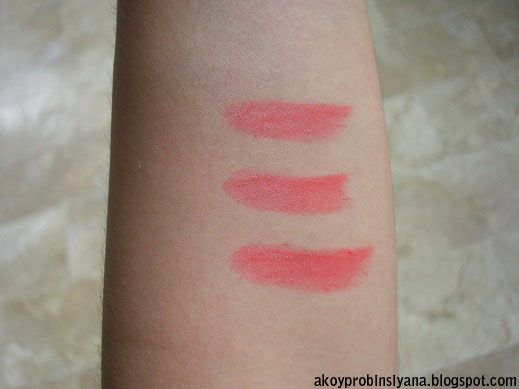 Swatch of the Amore shade. Swiping it once, twice or thrice on my arm doesn't have the effect of making it more opaque. Though you might apply twice on your lips to get the desired result. It can easily be rubbed off and there's the need wait for the product to settle down or set it.
You should keep on smiling when wearing this, else someone would easily pick your mood and be unease. Would you want someone knows you're not in mood? Older people can confidently wear this but for those who are just in transition phase and has a fair skin color, a personality change is needed. Goodbye for the Nene's days and welcome to a serious, bold, and
smart radiating
aura.
I have a very chappy lips especially when I didn't consume enough water in a day. It could be visible when this Colour Collection lipstick is applied, but the formulation miraculously aid in the shedding of the dead skin cells.
It gives the lips a glossy shine

It moisturizes the lips, sometimes better than a lip balm

It doesn't last long

It has argan oil and squalene

This is the kind of lipstick that will be consumed fast

Looks red with an orangey tone
Glossy and Tinted. It is creamy or maybe just feels wet due to gloss. The tint makes the skin underneath visible. I am deceived of how matte it looks in the tube, but it's not. It melts in the lips like a butter. My first impression was, "Did I just put a ketchup on my lips?" And since that's the case, it greatly hydrates the lips. It could be uncomfortable for those who are not used to it.
I'm waiting for the time I can confidently wear a red lipstick. That could happen on days that I am very uplifted. I find this shade hard to wear. It gives focus on my round face particularly my eyes. It seems that I have to contour my face and wear some eye shadows. For some people, this is not an issue. It's just that I have to adjust and make everything proportional.