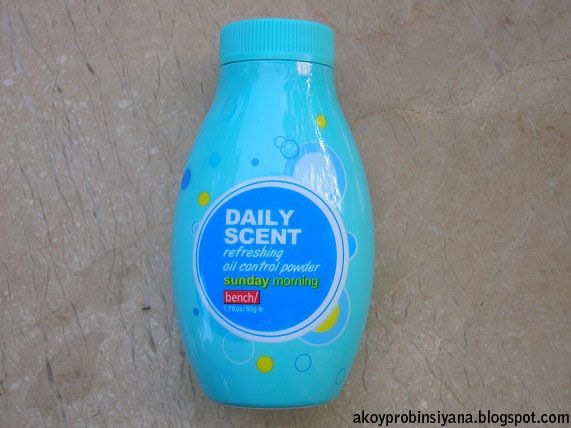 I just wanted to change my brand once in a while and then I found this Bench Daily Scent Powder. I was hoping that the "oil control" thingy will work. I didn't find a very noticeable change in my face within my usage. I still apply as frequent as how I apply other powders. Smells like one of their perfumes.
When full, there is a tendency of getting more than what you needed. Whenever I sleep and miss removing it, I always have breakout of around 1-5 pimples, even when its only an afternoon nap. That's the case when I use Eskinol, I get more sensitive with talc or some ingredients of loose powder. Though it rarely happen when I removed Eskinol in my regimen, something that I have observed.
One way we battle
instant oiliness
is by using loose powders. I wonder if this is how the Bench Daily Scent Powder meant to control the oil, for just being a powder. Or does it have any ingredients that works magic for oiliness?

Pros
-The price is not far with ordinary loose powder.
-New scent for powder is interesting.
Cons
-Not found in FDA site
-Oil control power doesn't work on me.
-I wish that they make a smaller bottle.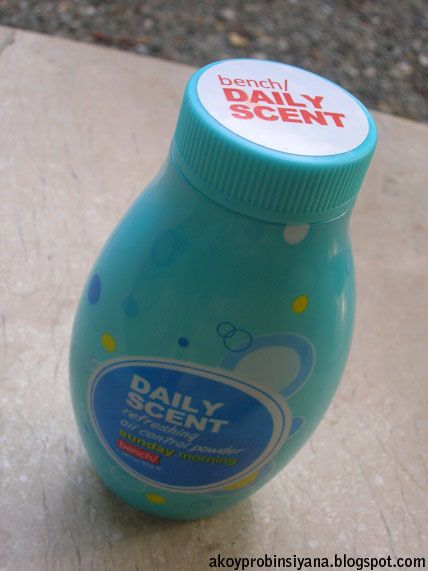 One of the problem I have with any kind of loose powders is the hassles of bringing it. My pouch bulges and this looks inappropriate to put in the pocket of jeans. I find it more decent to use this in some simpler occasions.
The lack of moisture in the skin is very obvious especially in the morning so you have to use a cream or a moisturizer, else you'll look unnatural. Repeated use of loose powder will give you a super white coverage.
Isn't it nice to have loose powders with SPF and different shades?