Sex Education has never been successful. It's more of a matter of debate than really educating the youth. Does telling about the reproductive parts of both male and female enough to orient the kids in the school or each need a comprehensive counseling? Or the insufficiencies belong to the old education system?
It's mostly the awkwardness than the conservative manner of Filipinos that hinders the awareness of children at home. Our parents are not typically trained especially in this part. Being a good guardian/parent is not a part of academe, so we usually devise our own way, mimic others or impart what was taught to us by our own parents. As of now, can you picture yourself teaching sex education to your kids? Do you know how or are you properly equipped?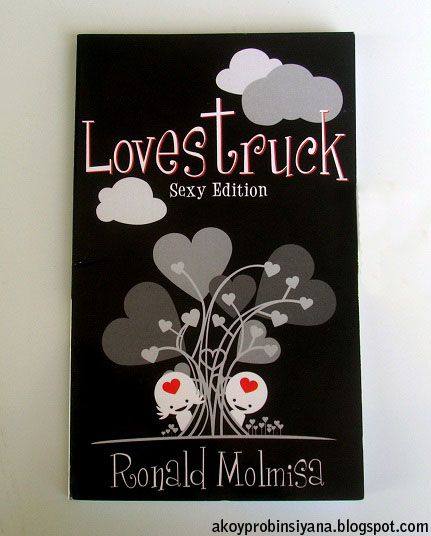 About the Book
Teaching kids of sex education is not a part of this book, but for individual it does provide advices about sex issues that range from entering puberty to understanding it within the bond of marriage. A bit straightforward exposure mixed with Bible stories and is written by a Head Pastor. Laugh while you learn which one is "Sexy with ugly face" between Hipon, Lollipop, Bulalo and Buko. It's a reality on a spotlight to get you acquainted about a part of ourselves that we usually ignore.
Title: Lovestruck Sexy Edition
Author: Ronald Molmisa
Net. Pages: 100+ pages
Page Size: 0.70cm
Price: Php 75.00
Language:
Tagalog
Review
The introduction is like a fierce wave that slowly calms and turns into a serene sight. There are terms that I only learned from this book and some that I'm still clueless. Since it's a male writer, there is a side of an opposite sex that you'll understand and empathize. It reminds me of Bob Ong and Papa Jack's approach. I find the advises and suggestions great for reflections.
Who can read this book?
Perhaps it could alarm conservative readers for I am also partly overwhelmed. I believe that too much information is still unfavorable especially if the reader is incapable of handling it. I suppose this book can fit kids
that are starting to enter puberty
. Relationship advices are good for building stronger
couple
while a large part of this book can open the senses of some lost youth. This is a book I want to share with some old friends.
Favorite Quotes from the Book
- Napasaya ba kita?
- Ang pinagsama ng Diyos, hindi dapat pinaghihiwalay ng dolyar.
- The wife does not have authority over her own body but yields it to her husband. In the same way, the husband does not have authority over his own body but yields it to his wife
Other Books:
1. Kendisbilab
Lovestruck Love Mo Siya, Sure Ka Ba?
2. Gradweyt na ako sa puppy love!
Lovestruck Singles Edition