We're promoting a healthy lifestyle by keeping and using a hand sanitizer. It is known that hand contact is the common cause of the spreading of unwanted microorganisms. It's a portable alternative whenever soap and water is not available as it can prevent the transmission of germs. It is also believed that alcohol-based sanitizer is more moisturizing in the skin than washing hands with harsh and drying soap. But for hands that have visible dirt, washing is recommended.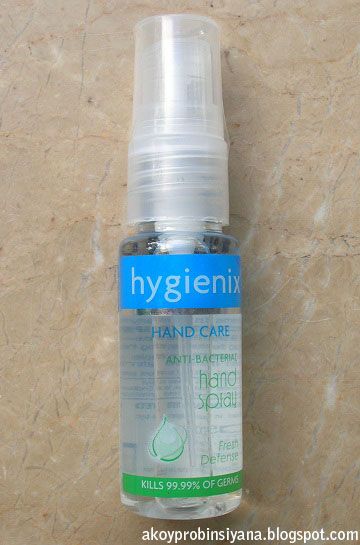 Price: Php 25.00 (20 ml)
Fresh Defense
Dermatologist Tested
Product Description:
Keep your hands clean and protected! Fight germs anytime, anywhere with HYGIENIX®
ANTI-BACTERIAL HAND SPRAY.
It is clinically proven to kill 99.99% of disease-causing bacteria with a non-drying formula keeping hands soft and moisturized.
Directions:
Spray ample amount on hands. No need to rinse with water.
Ingredients:
Aqua, Isopropyl alcohol, Poly (1-hexame thylenebiguanide hydrochloride), Sodium lactate, Sodium gluconate, Glycerin, Fragrance, PEG-8 dimethicone
Tips:
Rub the alcohol all over to disinfect your hand including the area between fingers. Don't forget the nails and wrist too. The use of some sanitizer on children should be under the supervision of adults as it can cause poisoning when ingested.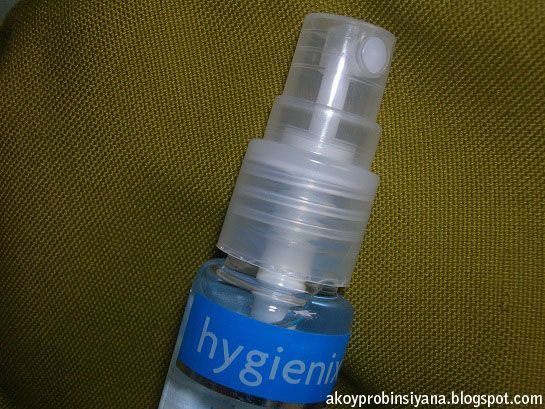 Packaging
It comes in a spray type bottle which is handy and convenient to bring everywhere. Using spray kinds is more hygienic when it comes to the risk of contamination. The covering cap has a small hole to encourage evaporation.
Texture/Smell.
The Hygienix Hand Spray is in a
liquid form
as opposed to other kinds of anti-bacterial sanitizer like the gel types. My initial impression after sniffing the bottle was "
Oh well, it's just the usual alcohol packed in a tiny botlle
". There was a strong alcohol scent, but that's alcohol. I do bring alcohol even before incase of special circumstances. This made me buy this
small empty bottle
. What's amazing with Hygienix Anti-Bacterial Hand Spray other than the
non-drying
effect is its
dual scent
. It also evaporates
quickly
while the smell changes into a different kind of fragrance.
Likes
-The cap of the bottle has tiny hole in it, simple but a thoughtful idea.
-I like the size of the bottle, small enough in my palm.
-It doesn't leave the skin with uncomfortable residue
-It has a refreshing scent that isn't annoying to the nose.
-It doesn't dry my skin
-Affordable
Dislikes
-The silvery part of the sticker fades
Overall Experience
. This is already my favorite hand sanitizer since it's not as drying as regular alcohol. There are instances though that I prefer plain alcohol especially for the purpose of cleaning my gadgets and desk.
Rate:
5/5
Recommend:
Yes
Repurchase?
Yes but not yet. I still have a huge bottle of alcohol; I might just recycle the bottle first. Support Philippine products!