This is the same day where my morning was greeted with sad news from a disapproved review. Then I realized I used the wrong choice of word such as "scared". I even rushed to try the sample to give a first hand and honest review. That product was even 250 points. Whew...
Then my Colour Collection crema shade broke just this day. I didn't know what happened, the stick just flew away and worst detaching itself from the container. I even love that shade. Did I forgot to twist the lipstick and then just close it with the cap?
Bad Investment
It was Burt's Bees 30
th
birthday so there was 6 new stocks released. I knew there's something big coming considering the long silence in SR and still I was not prepared. I don't have enough points so I was consumed with panic. It's Burt's Bees and that brand shouldn't be missed. It was hard to choose especially that I still have lots of products I hoarded a long time ago and need to be disposed first. Should I choose the
plain lip balm
? Do I need that? Is it okay if the product is only a sample size and pay a shipping fee for a small tube? What will I do with the remaining lip products I have? Would I go for a plain balm to put before sleep as hearsay the tinted one will make the lips dark when left unwashed?
It felt like it was the worst investment I made. They're all sample sizes and they're not a primary need. It's just merely out of curiosity and the panic of missing the good stuff and the excitement.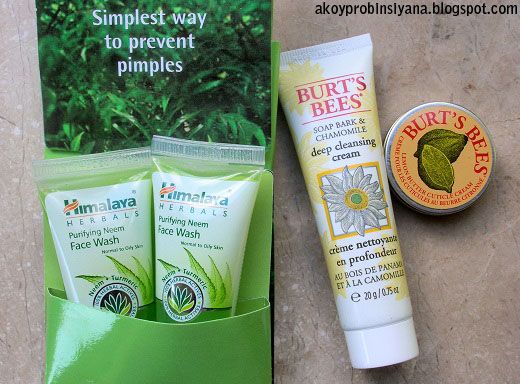 Sample Room Hauls
1. Himalaya HERBALS Purifying Neem Face Wash
Normal to Oily Skin
100 % Herbal Actives
Soap-free
Cleanses and purifies for clear, problem-free skin
Specially formulated to give you clear, problem-free skin, a soap-free, daily use face wash gel that cleanses your skin by removing excess oil and impurities without over-drying. Neem, well-known for its purifying and antibacterial properties, kills-problem-causing bacteria. Combined with
Tumeric,
it helps control acne and pimples leaving your skin soft, clear, refreshed and problem-free.
2.
Burt's Bees Deep Cleansing Cream
Soap Bark & Chamomile
Natural health & Beauty Care products for The Greater Good.
Sample size: 20 grams
3.
Burt's Bees Lemon Butter Cuticle Cream
Sample size: 8.5 grams
Product Impression
I still got excited when I saw the product because it's Burt's Bees. I'm really curious of their products. From the old brown paper bag, SR changed their bag. I still prefer the environmental friendly kind of packaging. I wished they've used a shorter bag with this haul since the products are small too. The
cuticle cream
smells great! Among them, this is the one I am most curious of and would like to have. I chose the
facial washes
because I'll soon be needing them. It's not really that bad after all.
Do you like Burt's Bees too?