Nivea In-Shower Whitening Skin Conditioner Body Lotion
Radiant, soft skin feeling
Using lotion while in the shower is now possible through this new Nivea Body Lotion. Wouldn't that be great to put a lotion right after you have taken your bath?
This is still a lotion and doesn't replace your regular shower gel when it comes to cleansing, what makes it different to your old lotions is that you have to rinse it off, allowing the right amount of lotion to be left on your skin.
Texture/Smell
The smell reminds me of strong baby powder and the facial moisturizer of Myra E. The scent stays until the end of the day. The shine of the lotion looks a bit blurry while the oiliness becomes apparent once you rub it. It doesn't set well so you really have to rinse it with water to unleash the oily-like conditioner. It is a slippery as the usual shower gel but once it dries it leaves the skin a light and well moisturized state. It feels like you have just put a body oil on your skin that isn't heavy but long lasting and very effective. You will feel well hydrated while your skin takes a break by making your skin
breathe
for the first time.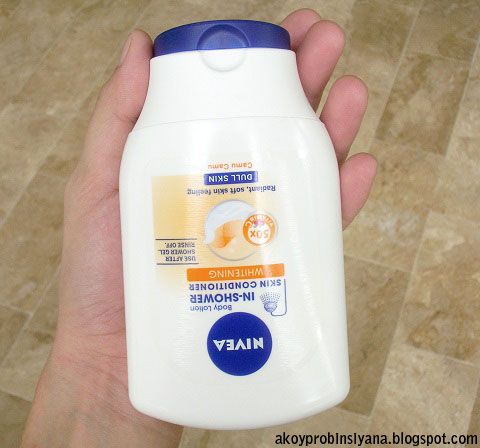 Price: P 109 for 100ml
Caution! May make bathtub/shower floor slippery,thus take care when using the product and remove any remaining residues from floor thoroughly after use.
Packaging
It used a unique material in the packaging; the plastic is soft and the sticker has vertical texture. It looks elegant with its signature color of white and deep blue and the design is not as redundant as others. The manufactured date is well written. Everything is perfect, my only issue since the bottle I have is small it would be hard to push the product out when it's near empty.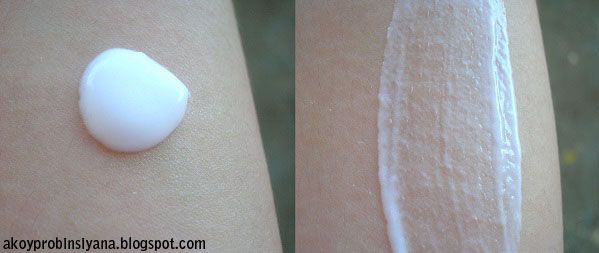 The lotion has a blurry shine in the while on the left picture you'll have an idea with the oiliness it has.
Personal Experience
I was discouraged when I first use this, it felt slippery and greasy. My hands is sticky as I try to remove the excess out of my skin. Even inside the bathroom, I saw an instant whitening effect. That's the time I looked at the bottle and realized it's really a whitening product as well. Could that be due to the vitamin C it has? I could feel that it's a mild and an effective whitener.
After I pat myself with towel and few minutes later, my skin is done, the product is already set in the skin and absorbed/evaporated and the only remnants of the lotion is its moisturizing effect. It's like the product is working deep and not the kind that just lingers on top.
As if I don't use a lotion at all but have the benefits of lotion.
I am very happy with my overall experience!
Dislikes:
- It's better to use this in shower. It's hard to remove the oily feel when you are the pail and dipper bath kind.
- I have the feeling that the towel you use will spoil fast unless you change your towel daily.
- For those who are saving water, expect the possibility of using a lot more water for rinsing purposes.
Recommend?
Yes. This is such a nice experience.
Rate:
4.5/5
Ingredients:
Aqua, Cera Microcristallina, Paraffinum Liquidum, Glycerin, Cetearyl Alcohol, Hydrogenated Coco-Glycerides, Stearyl Alcohol, Myristyl Alcohol, Malpighia Glabra Fruit Juice, Myrciaria Dubia Fruit Juice, Sodium Ascorbyl Phosphate, Glycyrrhiza Glabra Root Extract, Maris Sal, Propylene Glycol, Sodium Carbomer, Sodium Acrylates/C10-30 Alkyl Acrylate Crosspolymer, Citric Acid, Trideceth 9, Aluminum Starch Octenylsuccinated, Phenoxyethanol, Parfum
What's with Vitamin C?
Even if directly applied, vitamin C helps encourage collagen formation, it delays the sign of aging. It is believed to be more effective for the skin if applied topically than taken orally (It doesn't mean you should stop taking the supplement). Remember the strawberry face mask? It's actually rich in Vitamin C. Right concentration should still be considered.