Too fast for another haul? That's how quickly I received this parcel from LBC too. This and the previous haul from Sample Room was the worst delivery I have received. The logo seal of SR was broken and all the boxes are squeezed when its only 8 hours away. This is how bad the shipping condition of the courier in our country. At least the glass of the eye serum was not broken
This is still the most exciting batch in spite of all. It was Nivea In-shower Body Lotion that charmed me, after opening the paper bag though it was H20 face wash and the eye serum that gave my heart a leap. They're big enough to be glad about.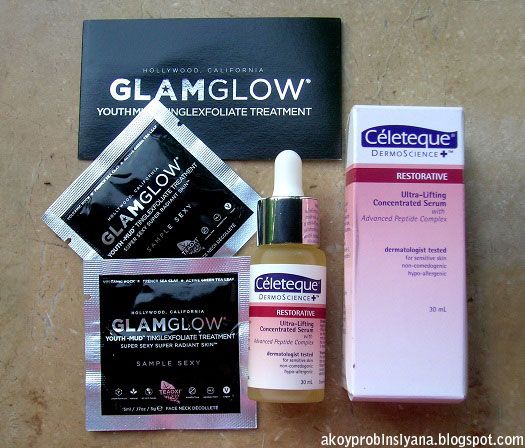 Part 4: (L-R) Glamglow Mud Treatment and Celeteque Ultra-Lifting Concentrated Serum
Part 5: (L-R) Span Mascara, H2o cleansing water and Nivea In-shower Skin Conditioner
Sample Room Hauls
1.
Glamglow Youth-MudTM Tinglexfoliate Treatment Sample
10 min facial used backstage in Hollywood's entertainment, music, fashion & award industries
2.
Celeteque Restorative Ultra-Lifting Concentrated Serum
Its Advanced Peptide Complex boosts collagen synthesis and improves skin barrier function, leading to improved skin elasticity and firmness and visibly reduced fine lines and wrinkles*

With Oceagen and Sodium Hyaluronate, moisturizers that provide intense skin hydration

Restores your skin's youthful look and vitality, giving you smoother skin and more refined pores with continued use*

3. Span Mascara


4. H2o+ Cleansing Water
The science of marine skin care
Oil-free marine hydration
Effectively dissolves surface impurities
5.
Nivea In-shower Whitening Skin Conditioner for Dull Skin
Repair 10 signs of dull & damaged skin while in the shower
For long lasting radiant, soft water-like looking skin

Product Impression
Part 4.
I regret taking two products instead of the 3 maximum. Choices are limited and I am not into eye make up remover. Even the
mud mask
is for anti-aging. I might just give it to Mom. It's the
Celeteque serum
I am eyeing to grab. Some uses this for their eyes though it gave me qualms because its mostly for fine lines and wrinkles (not really for eyes only) and it was tested on age group of 50 and higher. My skin might be younger for that especially the delicate skin around my eyes. This serum costs around P800+ if bought. I noticed that the box is sealed but you can actually open at the bottom. They should have sealed both.
Part 5. The Nivea in-shower body lotion
is a new innovative. If you are rushing, you wouldn't miss your usual application of lotion because you've done it already during your bath. It's the best time to apply body lotion too as our body is still damp and can hold better moisture, the lotion will further lock that moisture. The
H20 cleansing water
has a very nice campaign and has a very attractive color and packaging. It smells nice too. I'm not using
mascara
, I might just store it for future use. I didn't open it yet to prevent contamination.