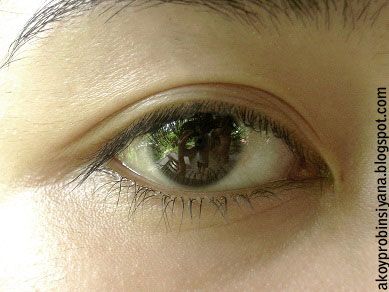 Sagging eye bags and fine lines under the eye
This beauty trial and error stuff in this blog stemmed from the sagging and forming lines under my eyes and the panic accrued from it. It was horrifying to think that this might be the consequences of not taking care of myself well and disregarding skin care product. The panic were followed by tremendous reading of different articles then a heavy heart learning that the small tube of eye creams costs around P 1,500 above. There are few cheaper ones but the pricier is more promising and has better reviews. Then after a while, I realize its normal and some bloggers experiences this too. Oh well, maybe I'm just getting older, but too early…
Then I looked at Mom, I'll most likely have no problems with crow's feet in the future, just dark circles and sagging eye lids and eye bags. Heredity plays a big role. I'll invest in eye creams if I get stable.
(How long would it take kaya before it could really happen? - my inside thought)
The skin under our eyes is thinner while it also undergoes a lot of movement. No wonder that we'll end up having crow's feet or sagging eye as we age. Worst is that it doesn't have oil glands to help lubricate the area.
Sample of H2O Eye Oasis Moisture Replenishing Treatment Sample Review
Usually, eye creams targets:
Fine lines, Dark circles and Puffiness
Eye creams typically work by:
Locking moisture

Making the skin look smooth

Encourage collagen growth

Filling the lost lipids between skin

Price: P 1,750 for 15ml (for full size)
Eye Gel
Texture
H2O Eye Oasis treatment is in bluish gel form and not the common cream type. There is a temporary mild coolness on the skin. It is light and feels slimy to rub which reminds me of snail. It is partially absorbed when applied thinly but going beyond that the gel stays and seems not to evaporate.
Packaging
The sample doesn't have list of ingredients included. Providing the list will give quick knowledge if you have an allergy in some of its content. It isn't a full size and is only 4ml which is almost 1/3 of the original size. The plastic used is quite hard and not as soft/flexible like what our local brands use.
User experience
There is no dramatic improvement within the short period of time, though result could really take time with this kind of products (such as 4 weeks to months). There is a lack of thrill but I'm still glad to have to try it. It's as if I am only using a moisturizing product that has a stroke of gentleness. There is uneasiness though, if this is the product I needed.
What I just don't like about using different cosmetic products is that we have to guess of what age range it is best suited. There are also different concentrations of active ingredients and each differs on how they work. The elasticity of my skin as of now would be different 5-10 years from now. Should I use the same product which older people use?
It is still important to be acquainted with the ingredients and also to seek the opinion of a professional.
Note:
The product used is only a sample size.
Tell me if you have tried the full size product and the great improvement you have noticed. I would be happy to hear that! ^_^