Oil-free marine hydration
Effectively dissolves surface impurities
Though it was only a sample, I am okay with the size. Perhaps it would only last for 2 weeks because of the consistency. The packaging is decent plus it has a control mechanism. The color could really remind someone of marine. The list of ingredients is not included. (
I wish they did!
) It will definitely give an idea if you have an allergy in the ingredients prior the usage.
Expiration Date:
not included
Price:
P 1,260
in 200ml
Smell/Texture
The smell reminds me of Lactacyd with a hint of citrus while the consistency makes me think of dishwashing liquid sachet mixed in 1 litre of water. It is not in a gel form either. It's to watery for that. It lathers quite a bit yet enough to clean and soften the face. At first I doubt it could remove the day's dirt but still it did. It's a gentle cleanser.
I'm wearing cream and powder recently so there's a need to remove it before going to sleep. The face is still rough if you splash a water, then after 2 or 3 washes, there is a
smooth
rinsing experience. The downside is, it is not very condensed that the supposed 2 washes tends to turn into 3 times of washing. This is the part where it seems uneconomical.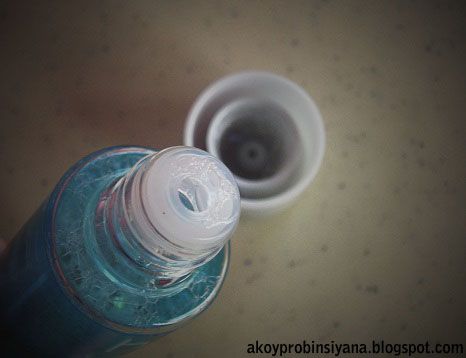 Edge?
What makes it different from others is the consistency of the product. No wonder it is a "cleansing
water
" It is non drying which suits me well and doesn't leave a residue on the face. There is a
comfortable
clean feeling after.
If you wore a heavy make up, look for a separate make up remover (that is why the remover is invented right?) and then just use the H2O face oasis cleansing water afterward.
Likes:
- The kind of cleanser that doesn't makes the skin feel dry and thirsty of moisturizer.
Dislikes:
- Contain parabens.
- Expensive.
Rate:
4/5
Repurchase?
No. I find the product expensive and doesn't make wonders for my pimples
Recommend?
Yes. There's no harm in trying.